From Chile, it is very easy to add a tour of the Uyuni Salt Flat to your schedule. It is a special opportunity to witness the world's largest and most popular salt flats and visit Bolivia. Specifically, we suggest you add this tour (about 4 days) after spending a few days in the Atacama Desert. Connecting to the Uyuni Salt Flat from San Pedro de Atacama is simple.
For those wondering which is best–the Uyuni Salt Flat or San Pedro de Atacama–why not visit both? And yes, tours in the Uyuni Salt Flat often exceed 13,000 feet of elevation. Therefore, we recommend going through an acclimatization process in Chile while visiting San Pedro de Atacama and its surroundings.
Now let's move on to Salar de Uyuni. In fact, this 4-day tour not only includes a visit to the impressive salt desert, but also includes many visits in South Lipez and the fabulous Eduardo Avaroa National Reserve.
Let's take a look at these points of interest on our interactive map
What is the Uyuni Salt Flat?
Conveniently located close to the Chilean border, the Uyuni Salt Flat is a natural wonder: a pristine, flat expanse of white. It is the largest continuous salt desert in the world, with an area of 4633 square miles. It is located 12,000 feet above sea level, in the southwest corner of Bolivia, in the Potosi province. Uyuni salt is one of the largest lithium reserves in the world and it also contains significant amounts of potassium, boron, and magnesium.
We have written a detailed post including everything you need to know to visit the Bolivian Salt Flat on our blog.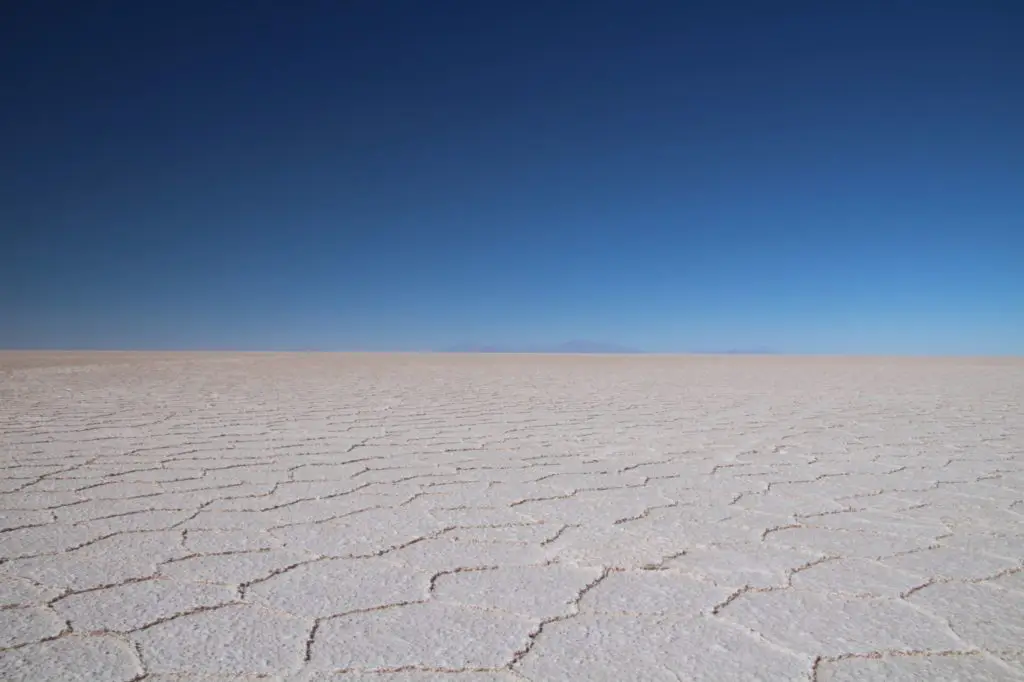 What should I see in the Uyuni Salt Flat?
Eduardo Avaroa National Reserve
This national reserve is located on the high plains of Bolivia and aims to protect fauna, wildlife, and indigenous people. It boasts striking landscapes such as Salvador Dali's desert and White Green Lagoon. This is one of the most popular national reserves in the country. The reserve is located near to the Chilean border (called Hito Cajon) and at the base of the Licancabur volcano.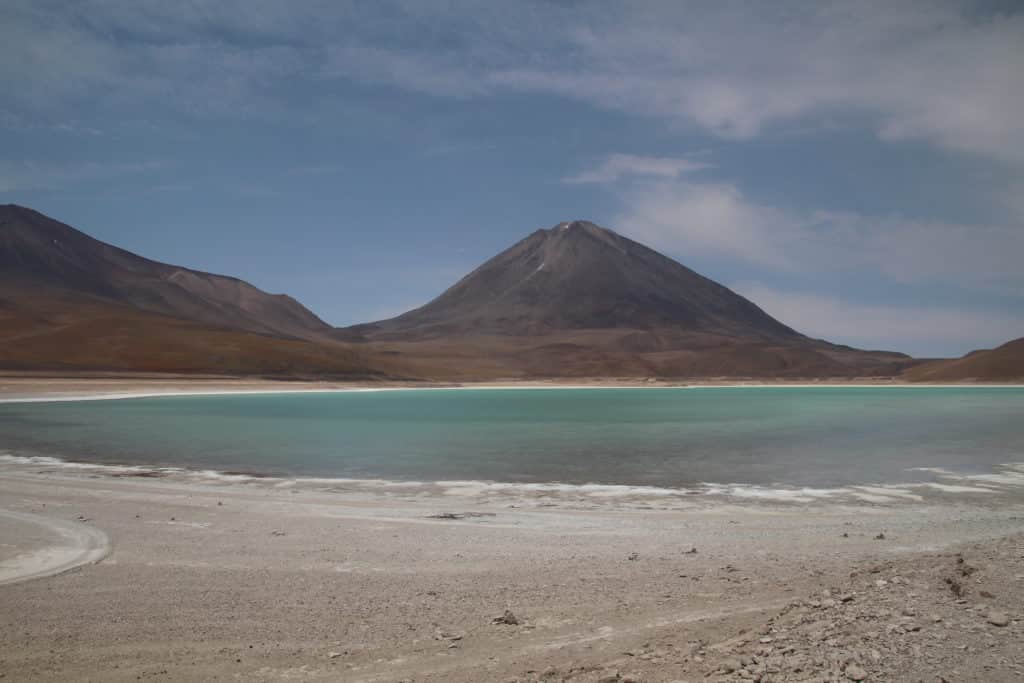 The sector is part of the national reserve and includes Polques Lagoon and Polques Hot Springs, where you can swim in warm water, surrounded by impressive scenery! In addition to an amazing view of Chalviri Desert, you will also have the chance to see hundreds of flamingos. The Sol de la mañana Geyser is another must-see.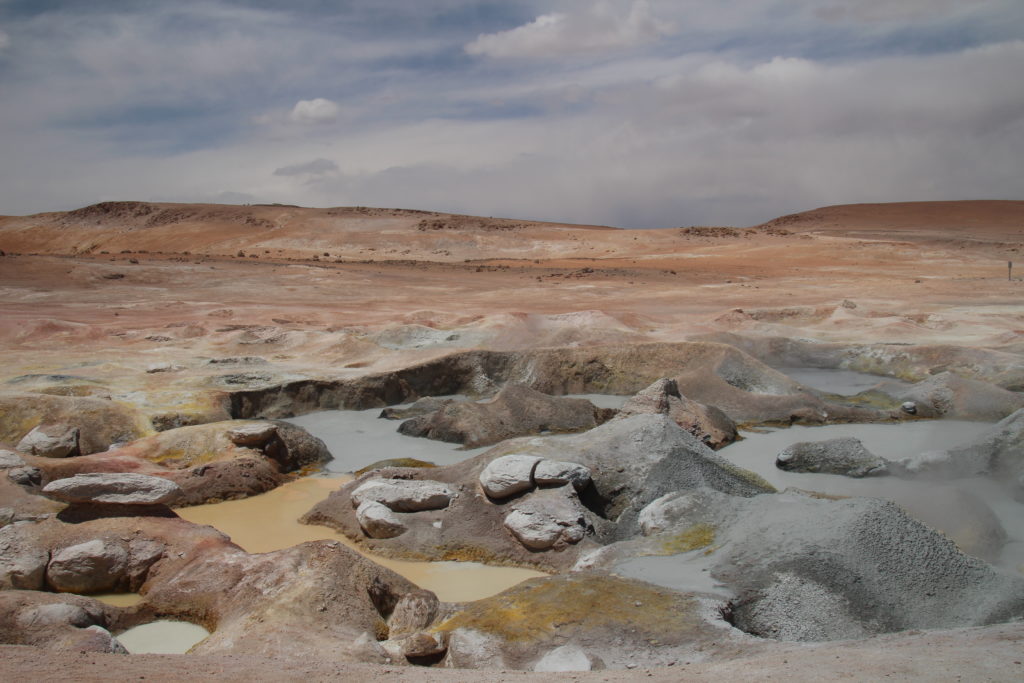 This desert is painted with spectacular colors and is famous for stone trees (arbol de piedra). These are rock formations shaped by wind and minerals erosion. Nearby, you will also enjoythe splendid Colorada Lagoon, a nesting center for more than 30,000 pink flamingos.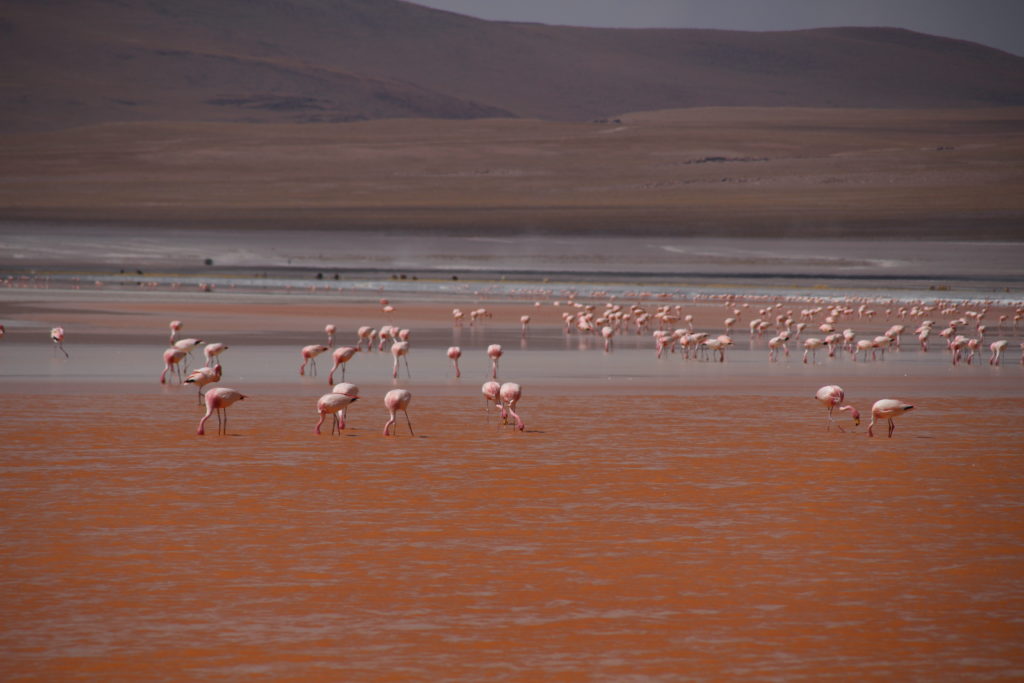 Uyuni Salt Flat (Salar de Uyuni)
This large flat expanse of white salt is the highlight of the tour. but there are other spots that you should absolutely visit. Incahuasi Island, known as cactus island, or Isla de los Pescados, is located in the middle of the salt flats and is characterized by its

huge

cactus

trees.

It is

the prime location to enjoy an amazing sunrise and

the perfect perspective of the immensity of the Uyuni Salt Flat. Not far from there, you'll also find
Ojos de Sal (Eyes of the Desert), a monument dedicated to the Dakar Tour (which used to pass by the Uyuni Salt Flat), a museum, and salt mines. There is also a train cemetery near the city.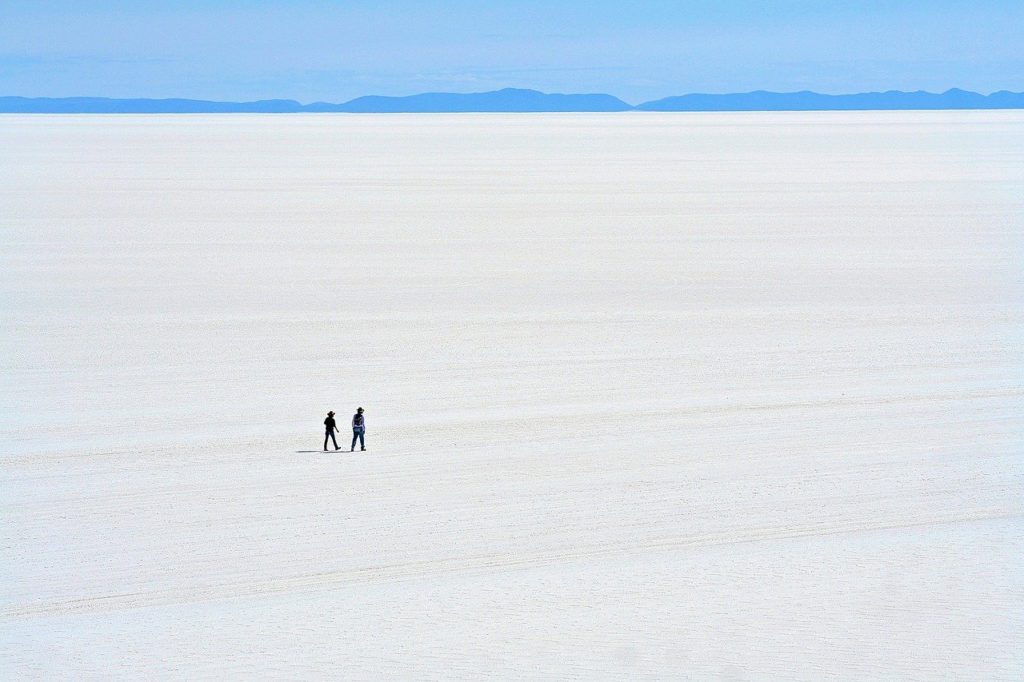 This white desert is much smaller than the Uyuni Salt Flat and is located at the base of Ollague volcano.
An ideal spot for climbing, it is also a gorgeous panorama! These rock formations are the result of volcanic eruptions. They have unique shapes, and with a little imagination, you can spot a camel and a World Cup trophy.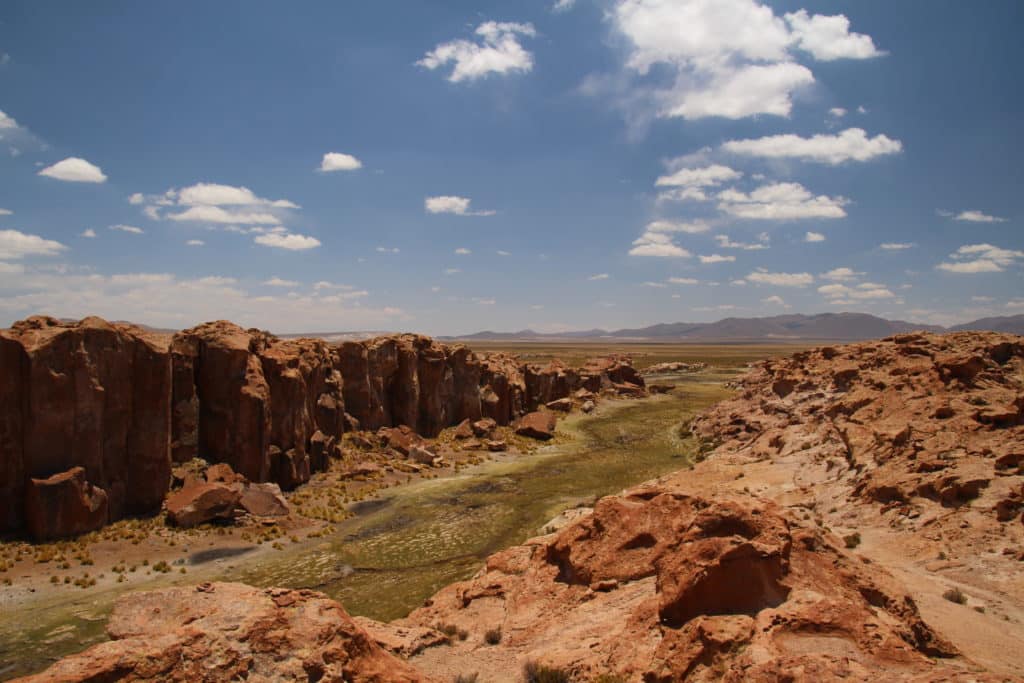 The Black Lagoon (also known as Misteriosa) is one of our favorites because it comes as a surprise. After passing by many spectacular lagoons, part of huge landscapes, this one is a bit of a secret. After a short walk, you will arrive at this mysterious place, a little hidden from the masses of tourists, but very charming. It is also one of the best places to snap pictures of llamas! Close by, Anaconda Canyon is also worth a visit.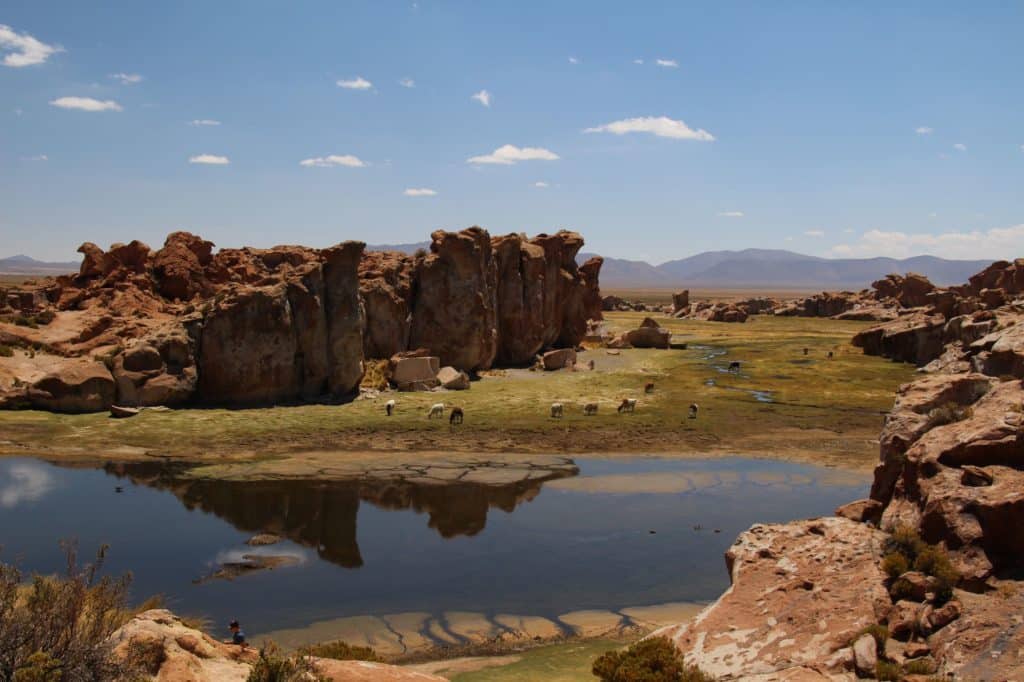 What is the best time to visit the Uyuni Salt Flat?
The Uyuni Salt Flat has the advantage of being accessible all year round. However, you have to take into account the temperatures and seasons to choose the best period for your trip to Bolivia. There are essentially two seasons: the dry season, which runs from April to November, and the rainy season, which can start in December and last until March (the greatest rainfall usually occurs in February). During the rainy season, the salt flat virtually turns into a mirror.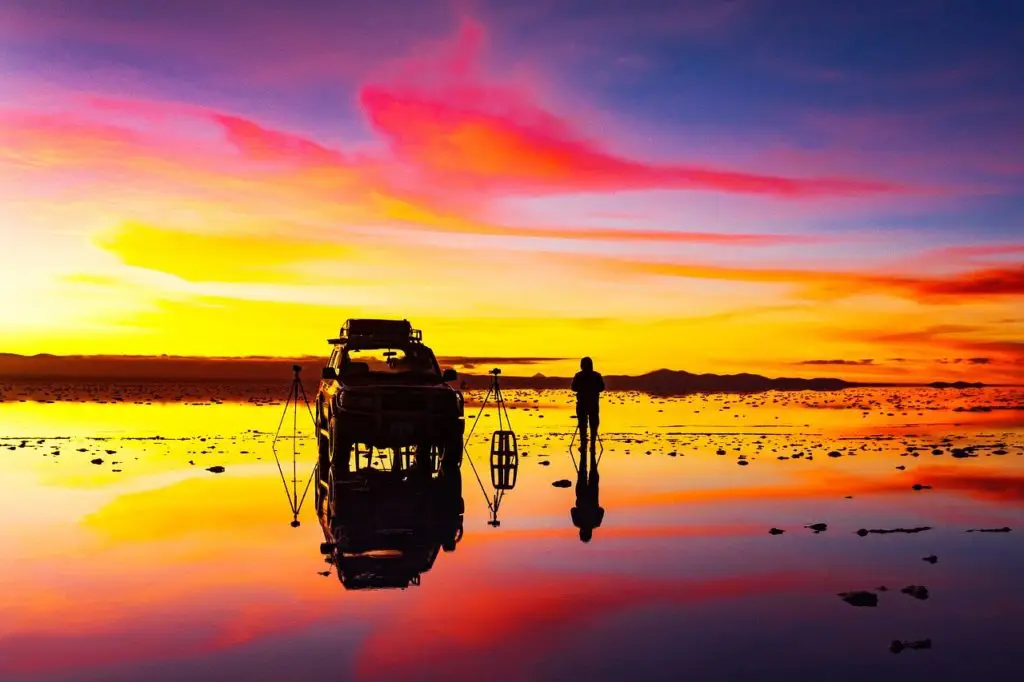 What is the weather like in the Bolivian salt flats?
Maximum temperatures fluctuate year-round between 57 and 64°F. Winter nights can drop down to -13 °F (from June to August). The sunshine is more or less constant all year round, and the most pleasant temperatures are between September and April. Keep in mind that the weather can change quickly.
When should I go to Uyuni to see the mirror effect?
Once a year, a phenomenon conducive to the most unlikely optical effects occurs. When rains flood the salt flat, it is covered with a thin film of water. In general, this happens in February. That is the month when you will have the best chance of observing the mirror effect in the Uyuni Salt Flat. However, it must be taken into account that during this period, several parts of the salt flat are not accessible, resulting in tour modifications.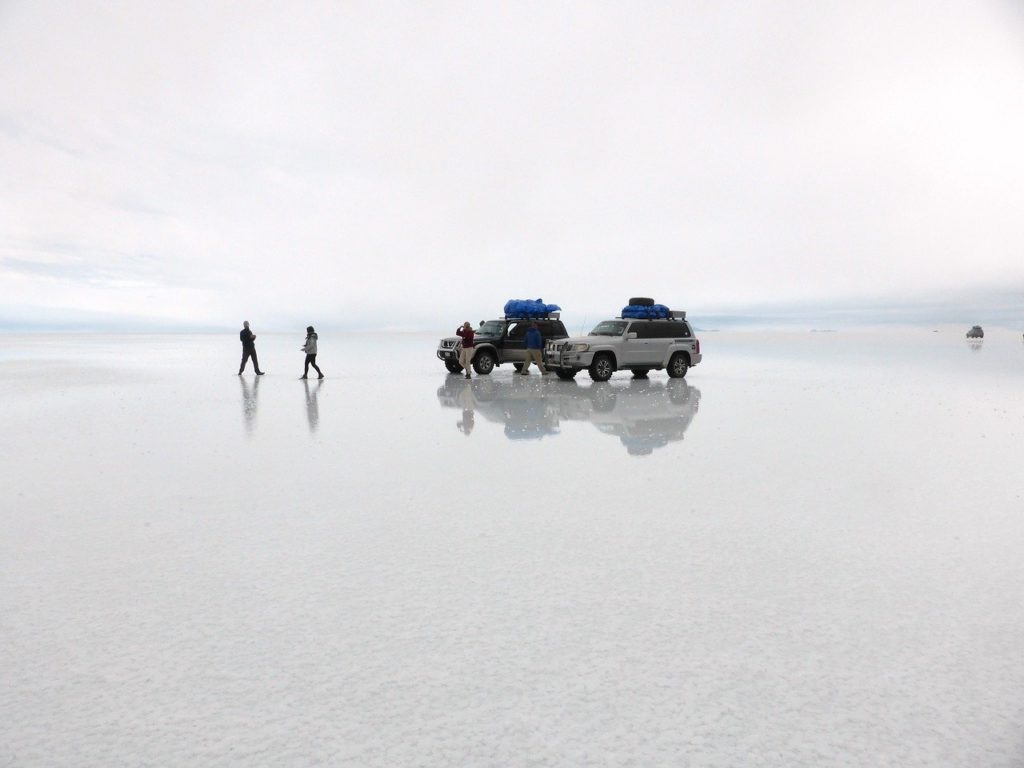 Prepare your stay at the Uyuni Salt Flat with a travel agency
Are you convinced that the Uyuni Salt Flats are worth a visit but you do not know how to make it happen? Which is better: visiting with or without an agency? Where should you stay? Are you looking for an agency to take care of the organization of your expedition to Uyuni? The following will be of interest to you.
How long should I stay at the salt flats?
In general, to visit the Uyuni Salt Flat from San Pedro de Atacama, a tour lasting 4 days and 3 nights is recommended. This is enough time to experience all of the region's gems at an intense yet reasonable pace. This tour is a loop and allows you to return to Chile. There is also an option of 3 days and 2 nights, but we do not recommend it because you will be spending too much time in the car and not enough time enjoying the scenery. It is also possible to take a tour in 3 days and 2 nights with a drop off in Uyuni, Bolivia at the end.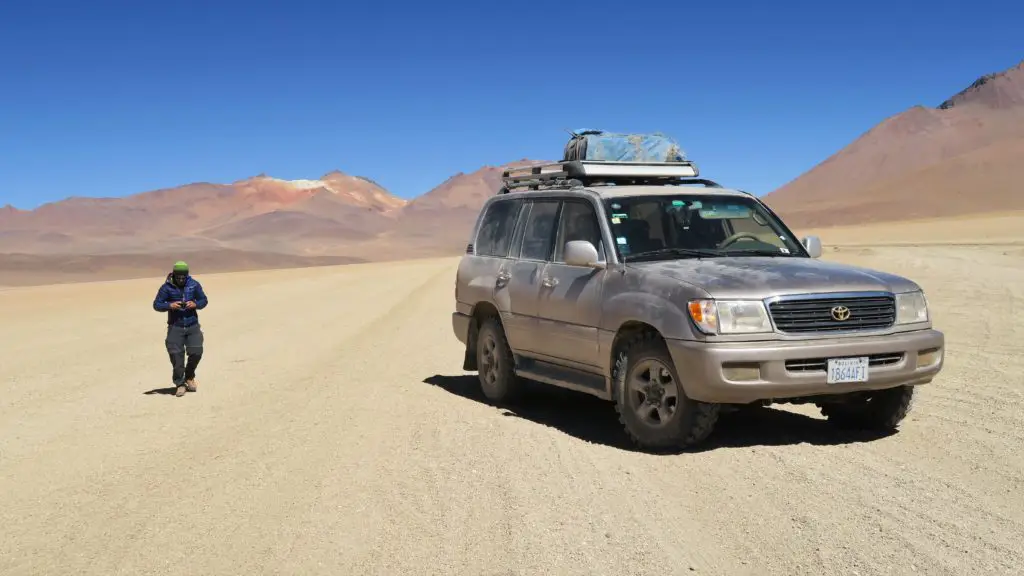 Should I organize my tour to the Uyuni Salt Flat with or without an agency?
In both cases, get ready for long days. The beautiful landscapes and grandiose nature are not easy to access, unfortunately! You will be able to discover isolated and well-preserved landscape, but this means that you will have to drive a hundred miles on rocky paths! Your back will probably not thank you for that.
We do not recommend trying to discover the Uyuni Salt Flat on your own, unless you have proper preparation and experience with this kind of expedition.
As a travel agency, we offer 2 options for traveling to the Uyuni Salt Flat: private or shared tours. They are both organized by Bolivian tour operators that we have carefully selected. If you take the private tour, we recommend 4 adults per vehicle in order to have enough space for each passenger. On shared tours, there are 6 passengers per vehicle and the space for your legs is more than limited. Fortunately, there will be many breaks in otherwordly settings, which will make you quickly forget these little inconveniences.
The two tours are substantially similar regarding the visits, and are distinguished by the accommodations and the pace imposed by the driver. In both cases, these are travel packages with full board, which means all-inclusive packages with accommodation, transport and food. An additional fee is charged for the entrance to the national park and Incahuasi Island, as well as for public toilets. For the shared tour, hot showers are also charged separately.
As far as drivers are concerned, those with whom we work possess an excellent knowledge of the area, and they are the only people authorized to decide which roads to take, considering weather conditions or time constraints. Also, be aware that their vehicles have to deal with harsh conditions related to the salt flats and desert weather. They are very cautious, but the salt and loose pebbles attack all parts of the vehicle. This can (though rarely) cause damage to the car such as flat tires or broken windows. Their kindness and goodwill will leave an excellent impression on you, and they contribute greatly to the success of your stay.
Where should I stay?
Before we start talking about hotels, we would like to remind you that, for this tour, adventure should be expected! By that we mean that you will travel to Bolivia, a country with a different culture than the country in which you live. Its people are very welcoming and will always do their best to satisfy your needs. However, you have to take into account the reality of the country, which has a much more limited infrastructure than Chile.
There are two types of accommodations: basic accommodation–i.e. accommodation with locals in the communities–and hotels.
The first category is offered in shared tours, with mixed rooms of usually 6 people, without heating. The toilets are extremely rudimentary (hot water is charged separately), and the bathrooms are shared.
The second category is considered a good standard of accommodation, given the region's isolation, but it cannot be compared with luxury hotels in Chile. They offer heated rooms with private bathrooms. Common areas are comfortable, and some have spectacular views of surrounding nature.
How much does it cost?
A private tour is almost 2 to 3 times more expensive than a shared tour for backpackers. We detail all our
prices
in a dedicated post regarding the
Uyuni Salt Flat on our travel blog.
We suggest you contact us to
request a custom quote
that takes into account your expectations. This call will also be an opportunity for you to ask any questions you have.