First of all, we want to help you locate Patagonia on your map. Many readers may want to know, "Where is Patagonia?"
It is important to understand that Patagonia is located in the extreme south of the South American continent, and it is a region that is spread over two countries: Chile and Argentina. Even though Patagonia is not a country in itself, the Chilean part of Patagonia has its own flag.
In addition, Patagonia must be distinguished from Tierra del Fuego,which is a separate region located even further south of Patagonia and north of Antarctica.
Below is a detailed map of Patagonia and Tierra del Fuego, where we have marked the tourist attractions.
Detailed map of Patagonia
Now that you have an idea of the geographical location of Patagonia, you are probably wondering, "What are the most essential Patagonia tours?" That is why we have dedicated an entire section to all of Patagonia's attractions, whether you are heading to Chile or Argentina. If you are not sure what to do in Patagonia, this travel guide is for you!
Best places to visit during a trip to Patagonia
Chilean Patagonia
Punta Arenas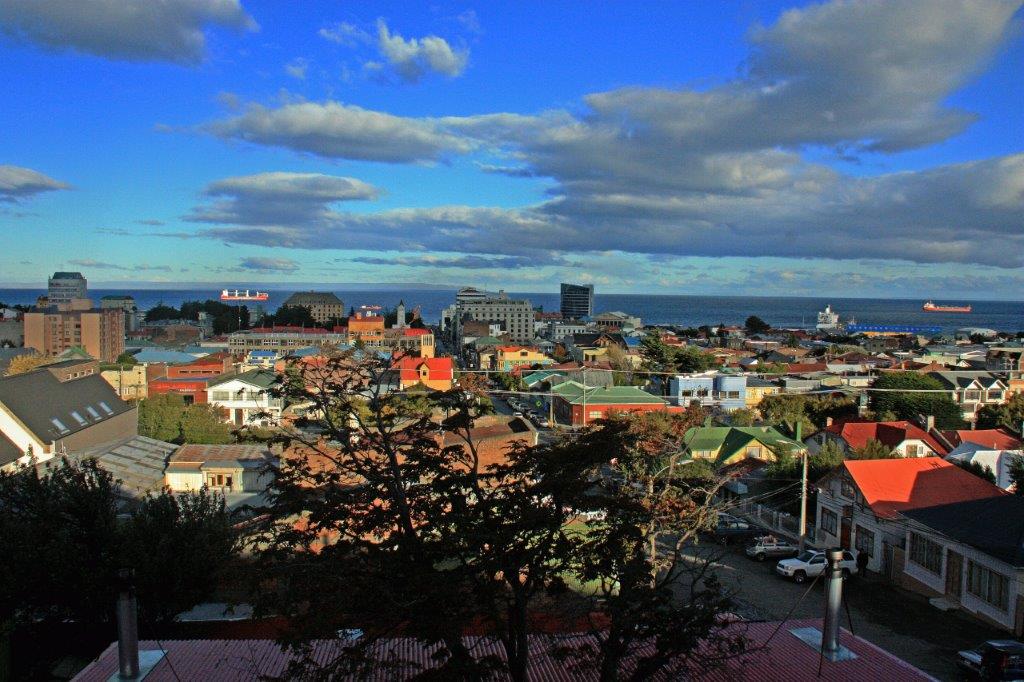 Although the city of Punta Arenas is not a must-see, it is still the main access city to Chilean Patagonia. You really cannot avoid a stop in this capital of the Magallanes Region. Punta Arenas, known as the last city in the south, was once one of the largest ports in the world. Since the opening of the Panama Canal, Cape Horn is no longer part of the obligatory trade route, so the city gradually experienced an economic decline. The discovery of oil and natural gas in 1945 allowed the city to recover. Today, Punta Arenas is one of the main starting points for expeditions to Antarctica. The city's main attractions include Plaza Munoz Gamero, which offers a view of the Cabo Hotel in Hornos; Braun-Menéndez Palace; and the cathedral.
Magdalena Island and penguins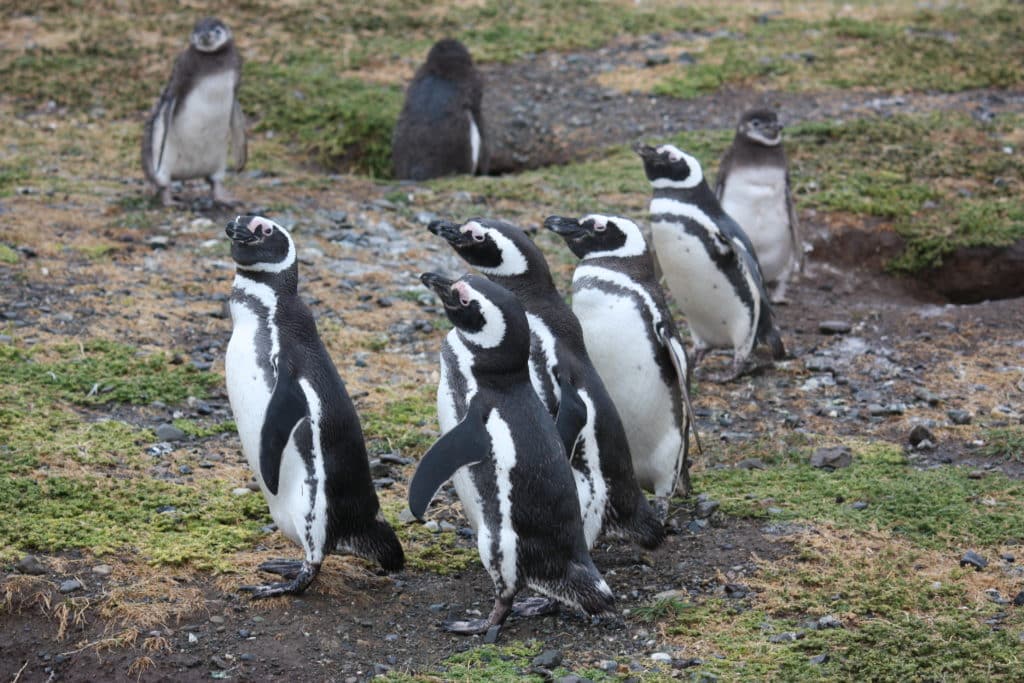 Magdalena Island is a must-see on your trip to Patagonia, especially if you are traveling with your family. This is one of the major breeding sites for Magellanic penguins. They can be seen from November to April, when they migrate from the Falkland Islands. The penguin colony is estimated at 150,000 pairs.
Puerto Natales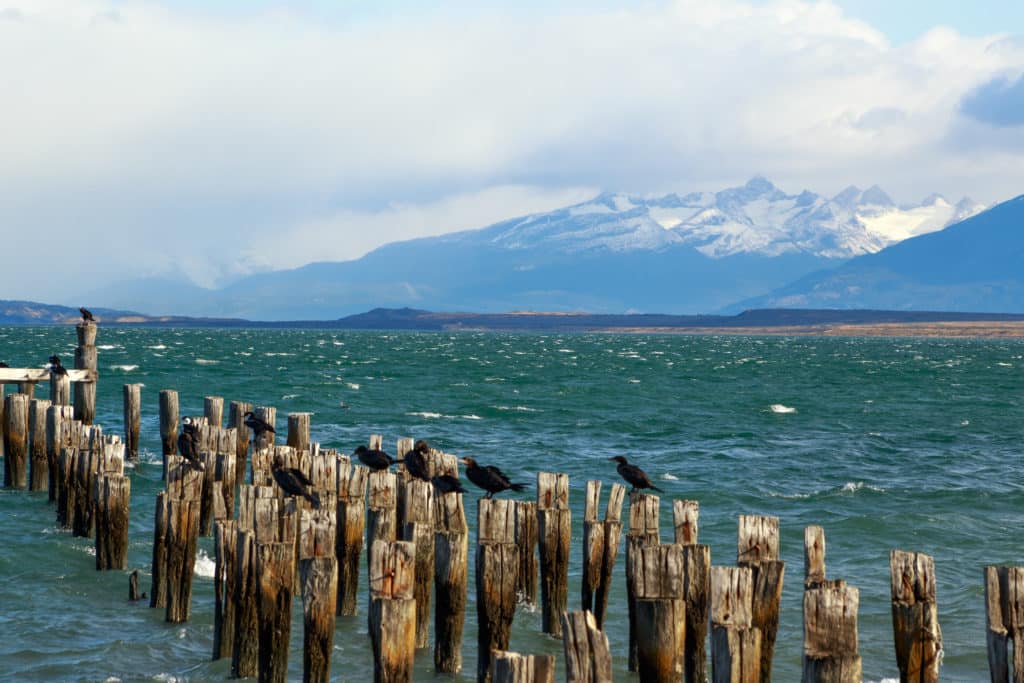 Puerto Natales is much more charming than Punta Arenas, especially since it is located in the fjord of the Ultima Esperanza and offers a beautiful view of the surrounding mountains. It is also considered an essential stop as part of a road trip to Chilean Patagonia because it is the starting point for a visit to Torres del Paine Park. If you have half a day to spend in the city, we recommend that you enjoy a short walk at Cerro Dorotea to take in a splendid view of the inlet. As a day tour you should consider a cruise to the Balmaceda and Serrano glaciers.
Balmaceda and Serrano glaciers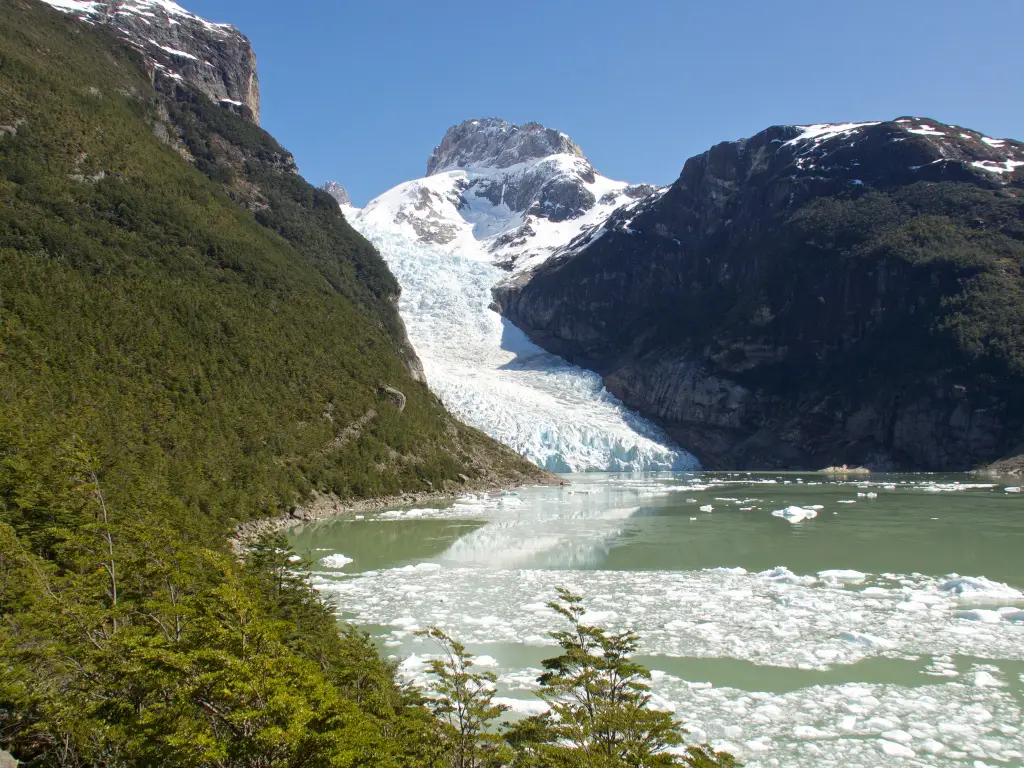 These two glaciers are part of Bernardo O'Higgins National Park. The glaciers are not as impressive as the Perito Moreno or Grey Glacier, but the landscape you discover during the boat ride makes it an unforgettable experience. You will sail on the Ultima Esperanza Fjord, admiring diverse landscapes alternating between cliffs, waterfalls, forests, and snow-capped peaks. Balmaceda glacier is observed from the boat, whereas Serrano glacier can be seen from a view point accessible by a short walk.
Torres del Paine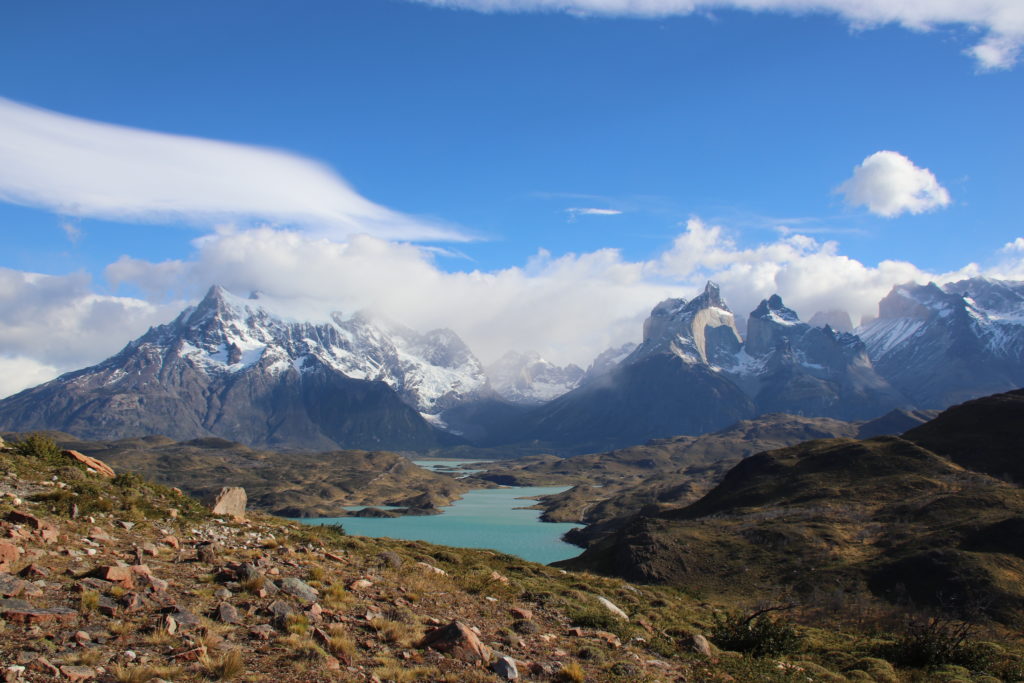 Patagonia's main event on a trip to Chile: Torres del Paine National Park. About a 3-hour drive from Puerto Natales, you will discover one of the most beautiful national parks in Chile: Torres del Paine. It is a natural wonder, classified as a national reserve by Unesco. Surrounded by glaciers, wind-whipped trees, and lakes, this is one of the most unique parks in the world. With a wide variety of landscapes, you will have the opportunity to pass from the Patagonian plains to waterfalls, crossing turquoise lakes and of course cruising to glaciers. The best time to visit the park is from January to April. The trails are well marked, and the campsites are located in very specific areas. You will have the chance to spot many animals, such as guanacos, condors, and flamingos. There are plenty of opportunities for hiking and trekking, including the "W" trek, which is a 4-day hike. The big loop, the "O," is longer and allows you to admire all the nooks and crannies of Torres del Paine. This spectacular trek takes 9 days.
Grey Glacier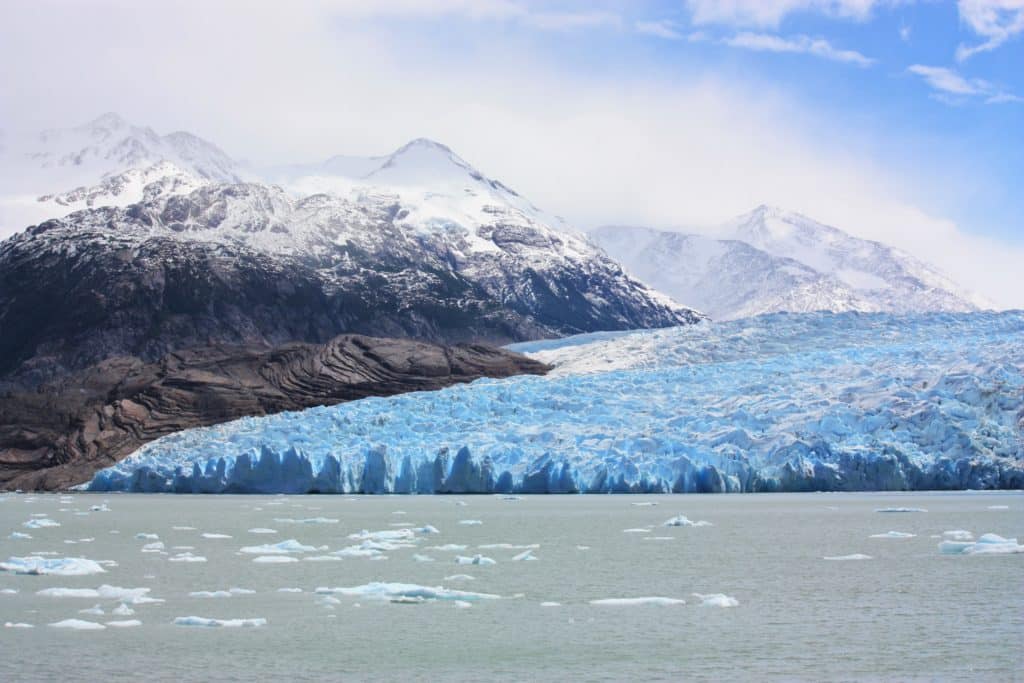 Grey Glacier is one of the Patagonian sights in Chile that should not be missed, located in Torres del Paine Park. The glacier is part of the South Icefield, a sea of more than 6,000 square miles of ice. It is the most impressive glacier in the area and is accessible by sailing or hiking (allow 1 day up and 1 day back). Its wall is 65 to 98 feet high; in other words, it is very imposing. Its blue color is dazzling, and the icebergs floating around the gray waters of Grey Lake promise an incredible spectacle.
Carretera Austral (Northern Road)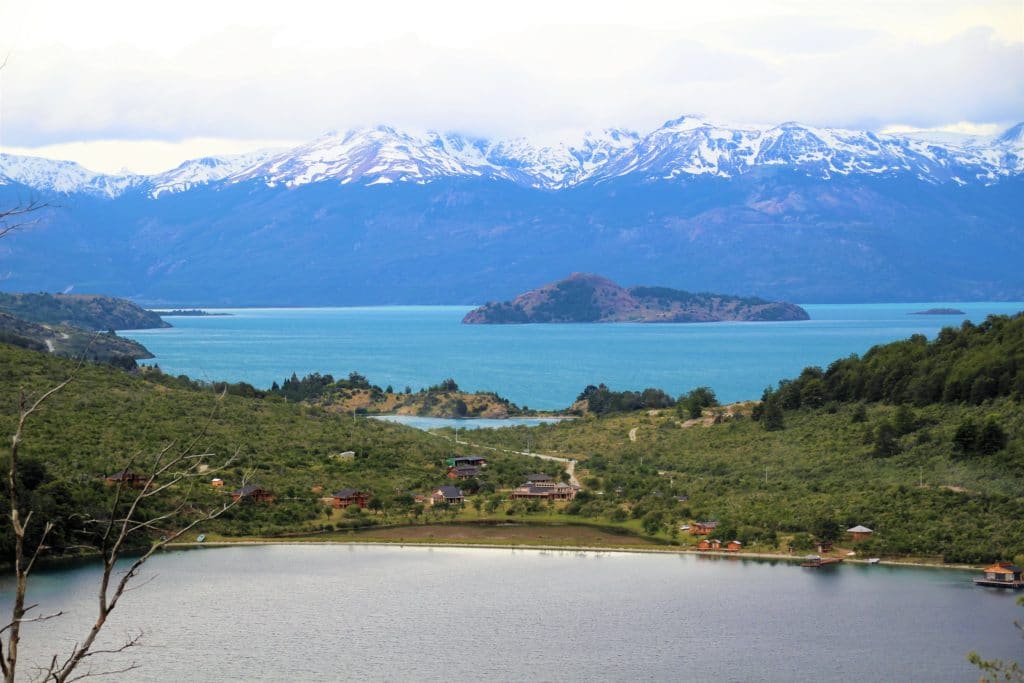 A road trip on Carretera Austral is perfect for discovering the fabulous General Carrera Lake, the marble cathedrals, and the San Rafael Lagoon. Even though it is located in Chilean Patagonia, we consider it a region of its own, which is why we have dedicated a detailed guide to preparing the ideal trip to Carretera Austral.
Argentinian Patagonia
El Calafate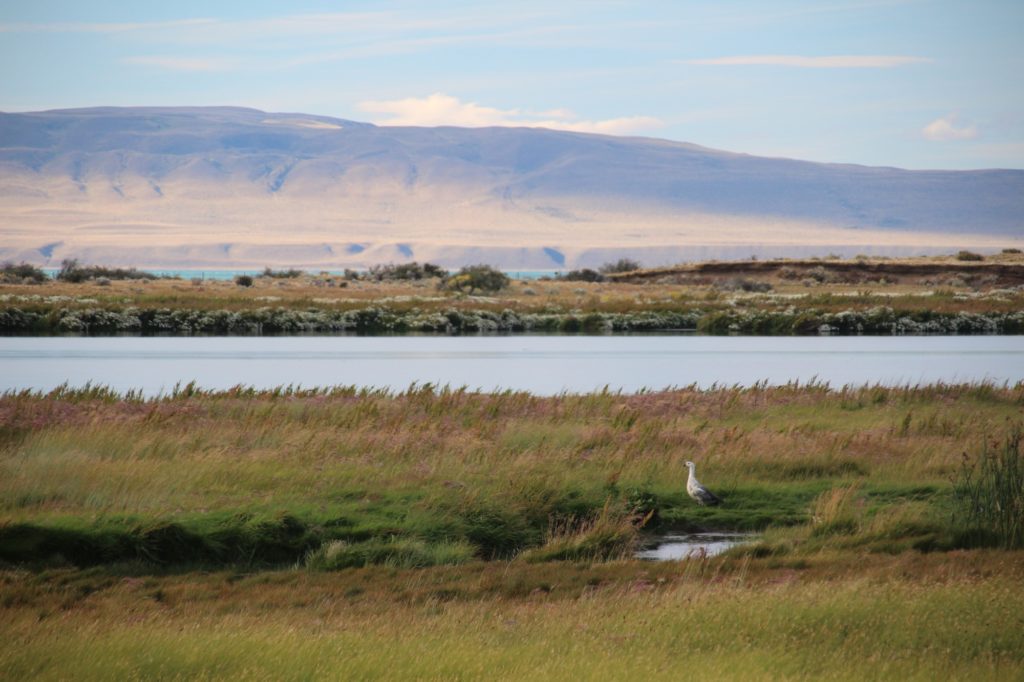 Although the city of El Calafate doesn't hold much interest, it is still a must-see on your trip to Argentenian Patagonia. In fact, El Calafate, a small pueblo that looks like a mountain village, is the starting point to admire the legendary Perito Moreno. To spend your time wisely while at El Calafate, we recommend visiting the reserve Ñimez or going to the Glaciarium. The Glaciarium is a state-of-the-art museum that informs visitors about how glaciers work (you visit an ice bar while you are there). The Ñimez lagoon is a municipal ecological reserve that runs along the Argentino Lake and is a little paradise for bird watchers.
Los Glaciares National Park
Los Glaciares National Park is a place of gorgeous natural beauty, comprised of imposing cut-out peaks and numerous glacial lakes. You will definitely enjoy sailing on Argentino Lake leading to Perito Moreno glacier, which is more than 100 miles long. At its end, three glaciers meet, including the unmissable Perito Moreno. These glaciers pour their waste into blue glacial waters, forming large icebergs that float and drift on the surface of the lake.
Perito Moreno Glacier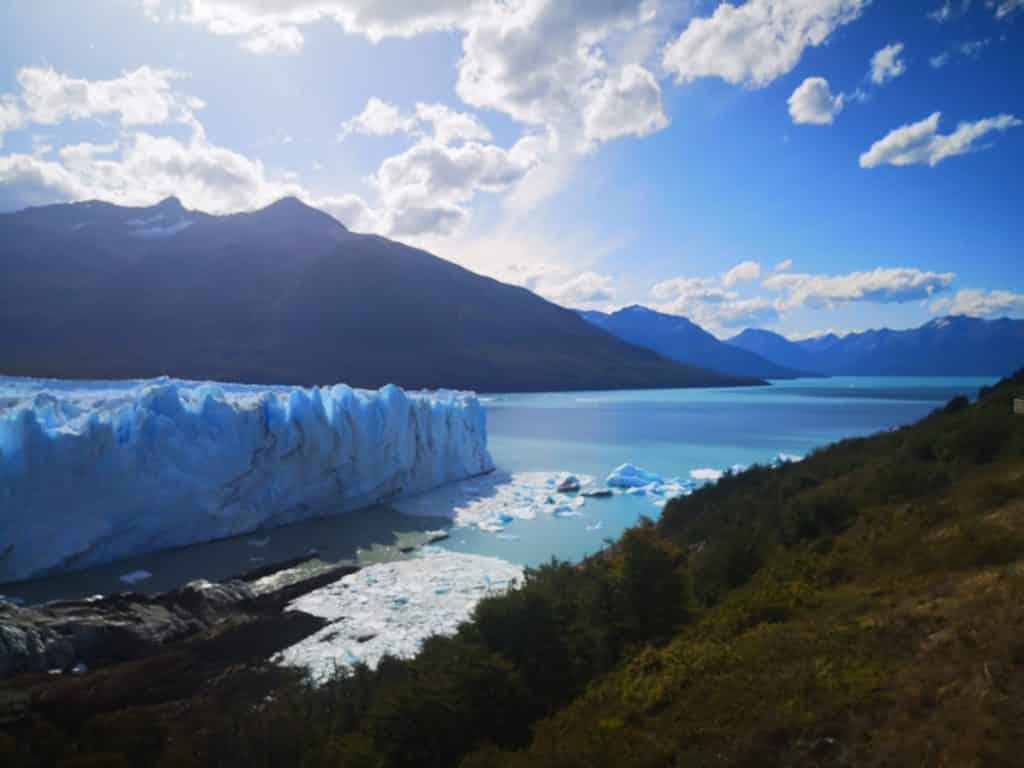 The famous Perito Moreno, one of the largest glaciersin the world, is part of Los Glaciares National Park and is an hour's drive from El Calafate. To protect the site, wooden and iron walkways form a pleasant route to admire all the visible faces of this ice giant. It's just as impressive up close as it is from the sky! Despite global warming, the Perito Moreno is one of the only glaciers in the world to grow and regenerate. It may one day hit the land located in front of its wall. You have to see it to believe it!
At 230 feet high, the north face of the Perito Moreno plunges into a turquoise blue lake. Many icebergs drift to the horizon. The colors of the glacier oscillate between the purest white and a deep, icy blue. These colors vary depending on the thickness of the ice and offer an incredible palette of blue. Perito Moreno glacier is in perpetual motion: the ice breaks–probably for dozens of feet–inside the glacier, causing what sounds like a thunderbolt. On a regular basis, a whole section of ice drops and falls into the blue waters surrounding the glacier and becomes an impressive iceberg. Another side of the Perito Moreno offers a different view, wilder and gloomier. Sediment dating back millions of years forms black streaks on the ice.
El Chalten
El Chalten is a small village and the best place for trekking in Argentina, located only a 3-hour drive north of El Calafate. Nestled at the base of the famous Fitz Roy, the legendary mountain of Patagonia in Argentina, this town is the starting point for many hikes or treks.
The weather is often fickle, and an eternal crown of clouds seems to constantly ripple and rotate around Fitz Roy.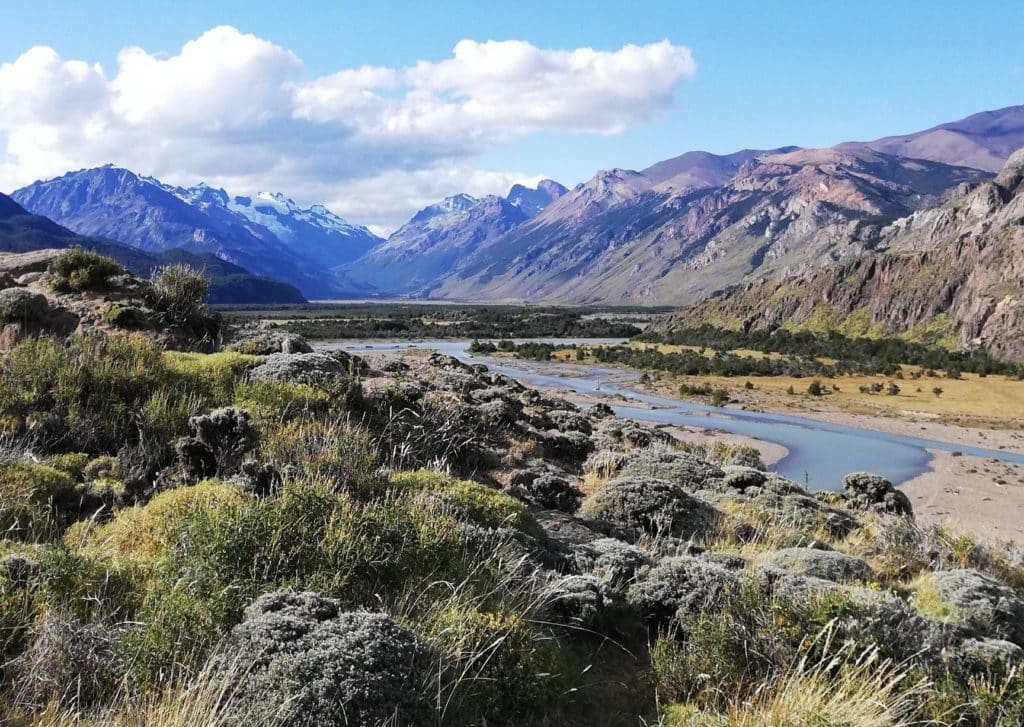 El Chalten is the beginning of many other hikes and treks lasting several days. Each valley offers very different landscapes and no two are alike. The Los Huemules trek is particularly spectacular yet difficult: 4 days of hiking. It allows hikers to admire many glaciers, mountain ridges, and eternal snow. Half-day or day hikes are also incredible: El Chalten promises to satisfy everyone's need to escape into nature! We have also created a tour focused on trekking to Fitz Roy and Patagonia.
You can even rent mountain bikes to climb the rocky slopes of Patagonia!
Fitz Roy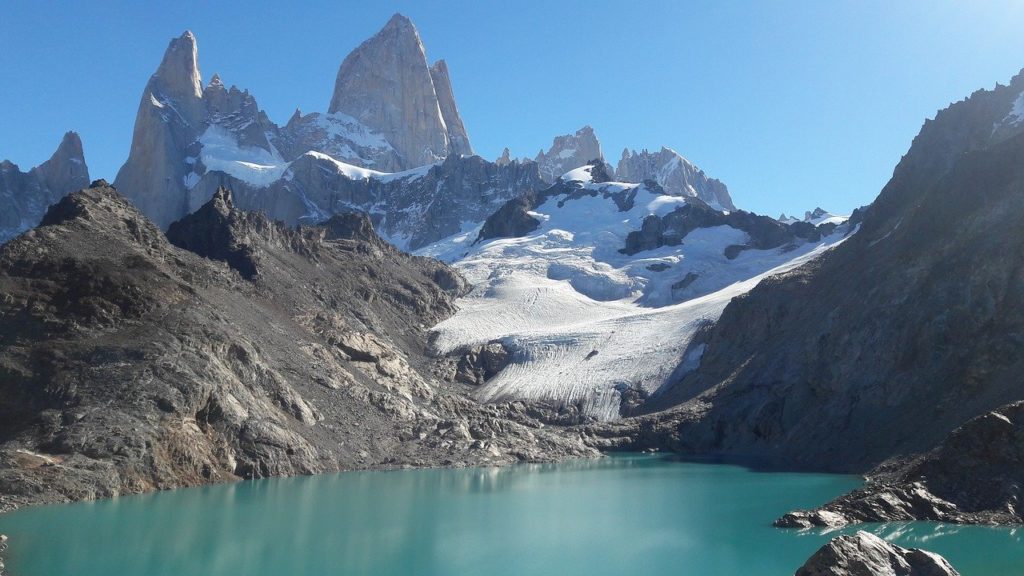 The most famous day hike is the one leading to Los Tres Lagoon, which is the best place to observe Fitz Roy. Be prepared for steep paths and flatter hiking trails. The scenery epitomizes typical Patagonia: streams of pure water descending from glaciers, high-altitude lagoons, green forests, and tall rocky mountains. At the base of the impressive Fitz Roy, there is a blue lagoon that seems to be frozen. Accessing on the left side, you will find a path that leads to a hidden waterfall. It flows a few dozen meters deeper into another lagoon of an even purer blue. Other waterfalls from several small glaciers pour into this small lake wedged between two rocky walls. The backdrop is a green, wild landscape, bursting with peaks and several lagoons extending to the horizon.
What tours should I join to visit Tierra del Fuego?
Tierra del Fuego, shared by Argentina and Chile, is the final part of the South American continent before reaching Antarctica. Battered by storms, the island attracts curious hikers and nature lovers looking for new sensations.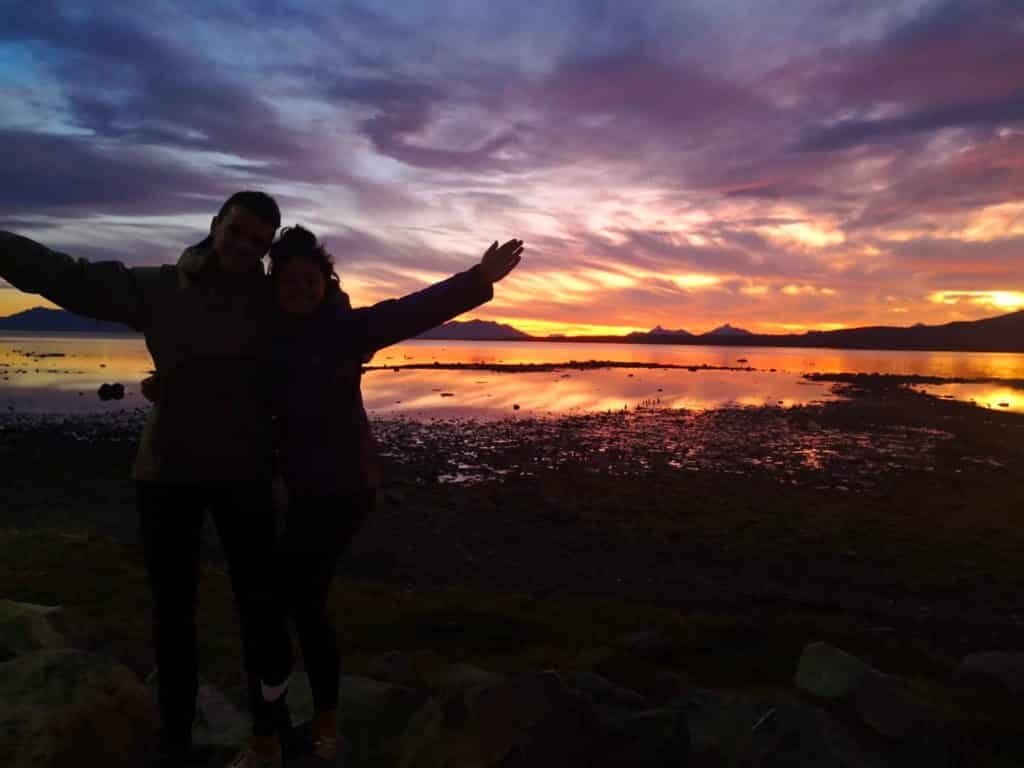 Chilean Tierra del Fuego
Isla Navarino and Puerto Williams
Puerto Williams is a Chilean city, located at the South of Ushuaia on Navarino Island. Navarino Island is a naval base accessible from Punta Arenas by boat or small plane. The island is known for hosting the Beagle, a boat that arrived from England with Yaghan people (natives of Navarino Island) on board, who were supposed to return to their land to convert the inhabitants to Christianity. In the end, one of the Yaghans, named Button, ordered several massacres against the settlers.
Navarino Island is particularly known for offering the most southern trek in the world: Los Dientes de Navarino. The trek is self-guided and lasts at least 6 days, which promises moments of adventure for experienced hikers.
Porvenir and the Royal Penguins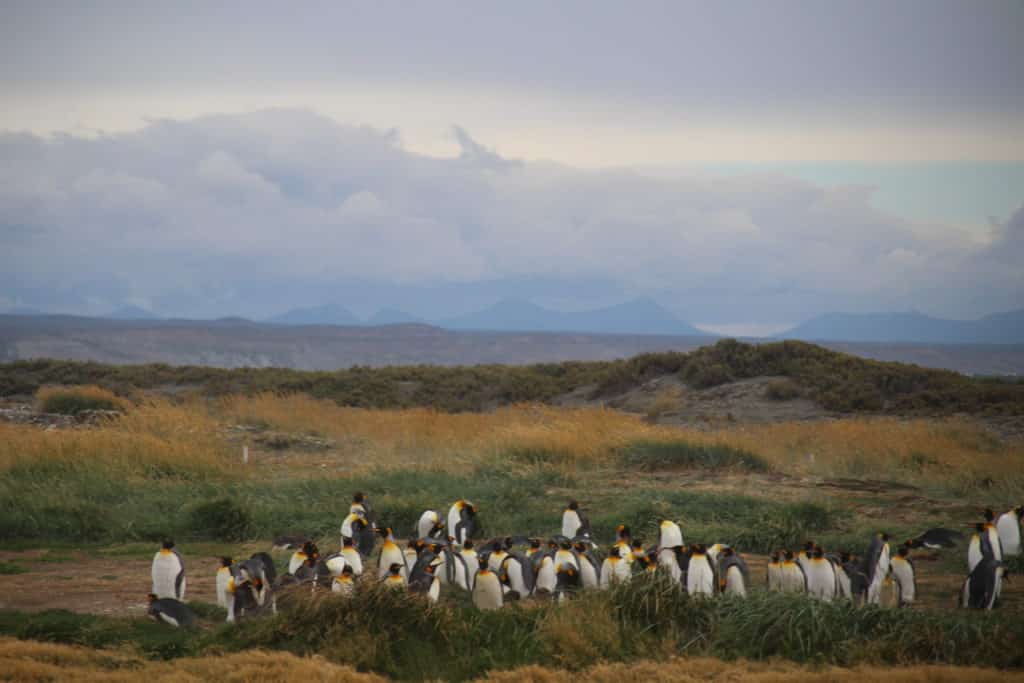 Tierra del Fuego is on many people's bucket list. No doubt your imagination has also run wild with the image of this mythical symbol of the end of the world and the end of the American continent, the last straight line before the Antarctic. Steppes, lakes, and forests make up the landscapes of this region where the Andes mountains end.
Porvenir is the capital of Chilean Tierra del Fuego. Originally populated by a police detachment, a wave of Croatian immigration, attracted by the search for gold, comprised its first population. Today there is an atmosphere of suspended time that all Patagonian fans love. Don't miss the museum created in 1980, which presents the culture of the indigenous Selk'nam, the island's aboriginal people, and retraces the milestones in the region's history: gold rush, colonization…
Another worthwhile experience is a visit to the royal penguin reserve. In recent years, a colony of royal penguins has taken up residence off a beach in the Estancia San Clemente. This is a real miracle, because in principle these birds live on cold islands of the Antarctic and sub-Antarctic regions! It is the largest species of penguins after the emperor penguin: about 35 inches tall with an average weight of 29 pounds.
Argentinian Tierra del Fuego
Ushuaia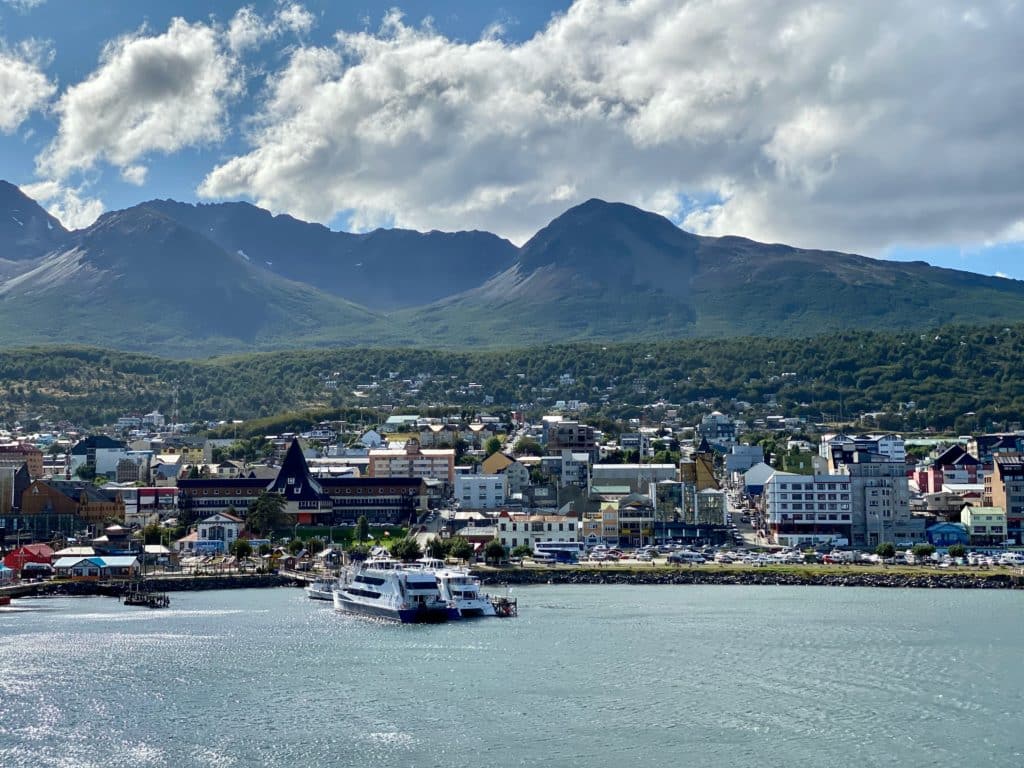 Ushuaia prides itself on being "the southernmost city in the world" and yet, as we mentioned, Puerto Williams is even further south. The name of the capital of Argentina's Tierra del Fuego province means, in Yaghan language, "a bay penetrating to the west." Observed from afar, you would find a little Scandinavian influence in this city cut off from the world, its houses with corrugated, colorful iron roofs. On closer inspection, you will not find much charm. However, Ushuaia fascinates travelers from all over the world: even if the impression of reaching "the end of the world" fades quickly once you move around the city, you will discover a region of wild beauty.
National Park Tierra del Fuego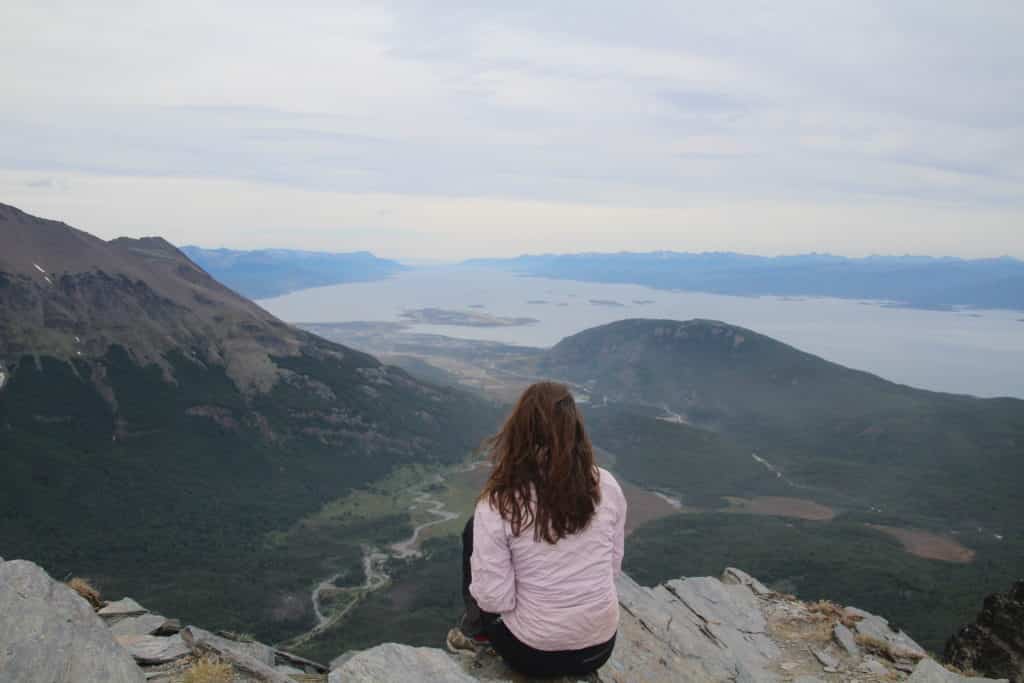 Don't miss this beautiful park! Bordering the Beagle Canal, it allows you to enjoy magnificent panoramas while canoeing the Lapataia River or hiking easy trails. In addition, there are a lot of walks and trekking opportunities. We particularly encourage you to take the hikes to the Esmeralda Lagoon or Martial Glacier.
Martillo Island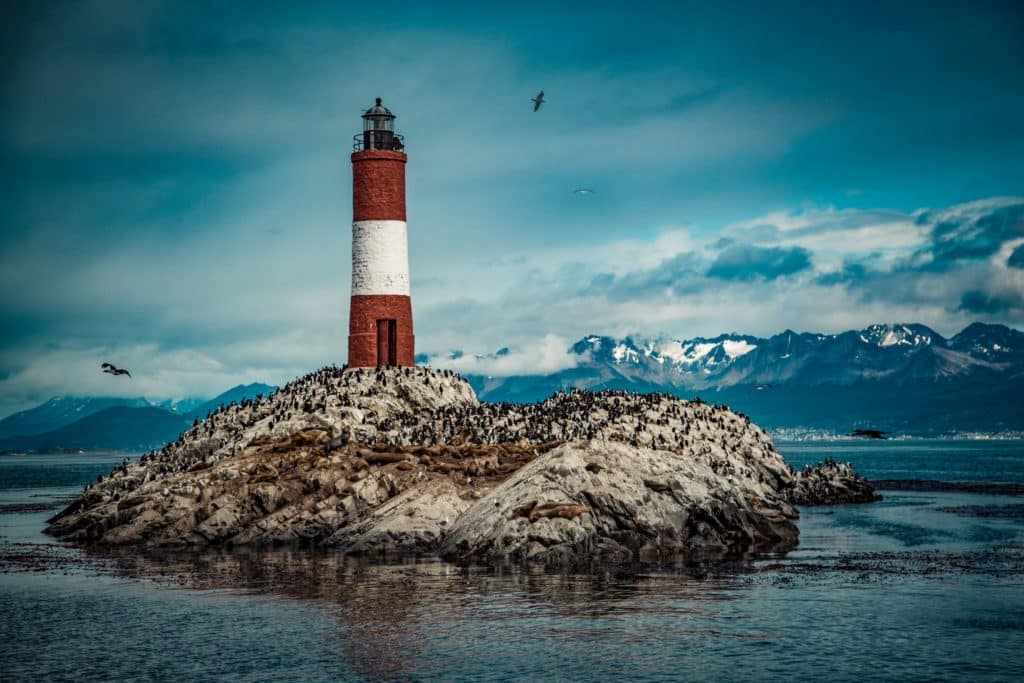 Meet the penguins and especially the Magellanic penguin, an essential tour during your visit to Ushuaia! The island allows you to see them up close, landing on the island. Magellanic penguins are black and white. Their name comes from one of the first European explorers to travel to the extreme south of the American continent.
What's next?
If you really want to go further south, you can consider exploring Antarctica and its mythical Cape Horn, accessible only by cruises.
Further north of Patagonia, the Chilean Lakes District and the 7 Lakes region around Bariloche in Argentina promise an exceptional addition to continue exploring the south of the American continent. The Lakes District and the island of Chiloé are ideal destinations to discover with your family.
As usual, we have prepared a selection of favorite tours that offer authentic experiences during your trip to Patagonia. These different excursions should be chosen depending on your expectations. Whether you are on a honeymoon or you want to discover Patagonia with your family, you will inevitably find an unusual experience that suits you: horseback riding, cruising to the glaciers, penguin or whale watching, ice trekking on glaciers… In addition, we have a whole series of hikes for people who wish to take advantage of their holiday in Patagonia to go trekking.
Which tour do you recommend to discover authentic Patagonia?
Navigation to glaciers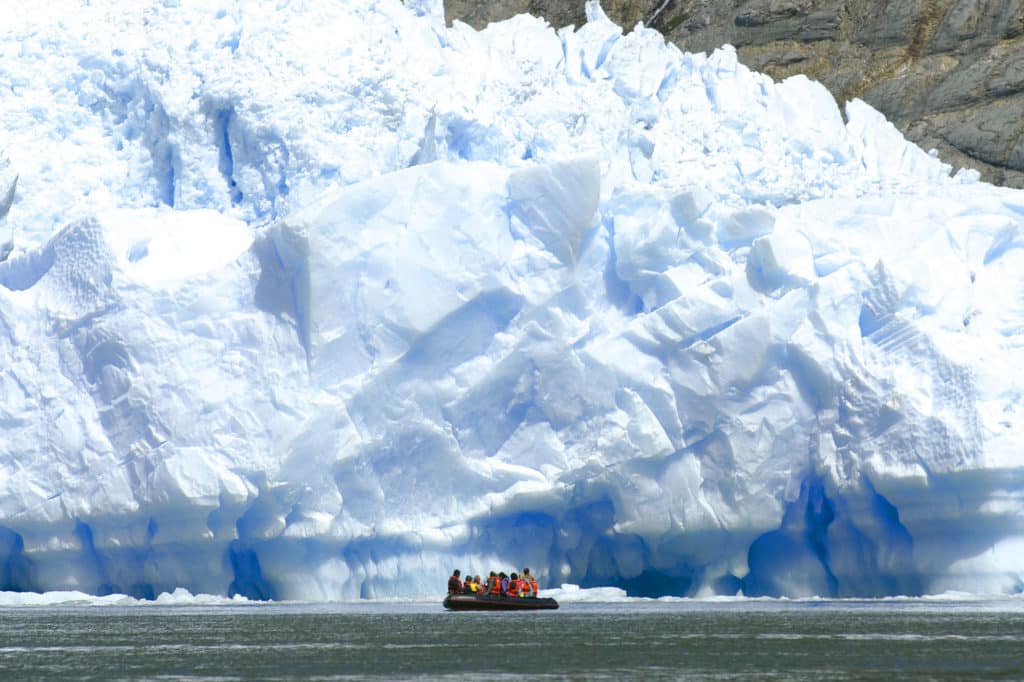 Who has never dreamed of approaching a glacier by boat? For many, seeing glaciers from a closer perspective is a dream of a lifetime. As we know cruises that span a few days are very expensive, we offer full-day navigation to the glaciers. These navigations are an opportunity to explore the ice fields and sail between icebergs. Depending on the size of the boat, you will be able to access glaciers as close as possible. Once you reach the ice wall, you will certainly feel the power of these unique natural formations.
The following glaciers are accessible by full-day navigation :
Balmaceda and Serrano glaciers
Sail on Argentino Lake to get to the Spegazzini glacier (an impressive 443 feet), then cruise to the Upsala glacier that covers almost the entire valley, and finally arrive at Perito Moreno
Grey Glacier
Ice hiking on glaciers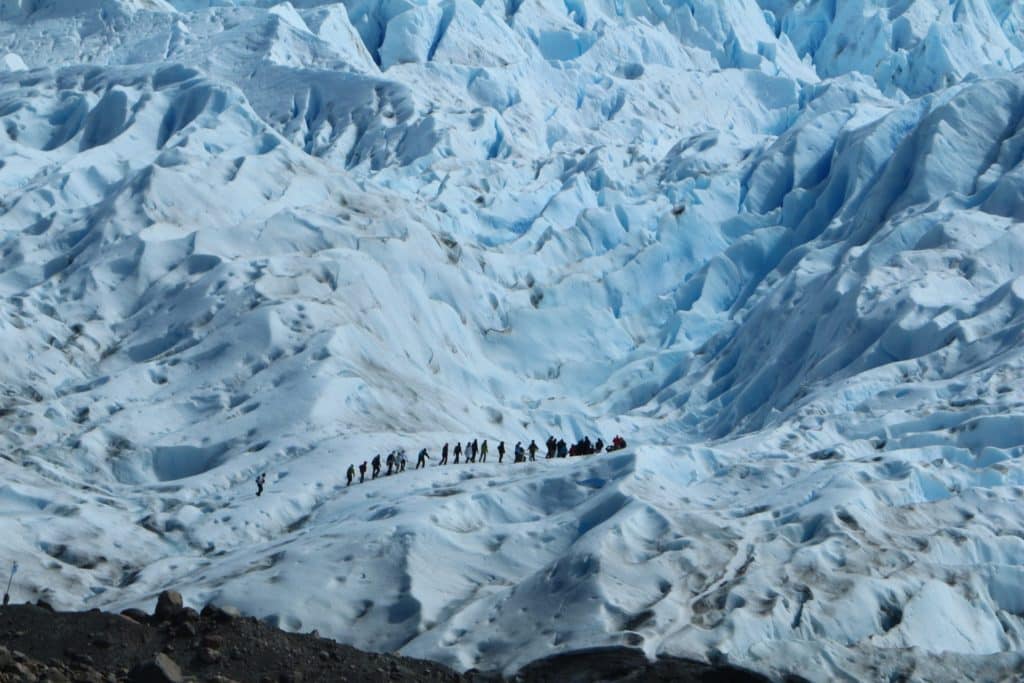 Specially designed for adventurers, this kind of excursion promises unforgettable memories! Put on your crampons and grab your ice axe to discover the glaciers during an ice hike. Roped with your team, you will have the chance to hike on the glacier and discover ice tunnels, which will undoubtedly leave you with incredible photos . The most accessible glacier of its kind is the Perito Moreno.
A typical day at the estancia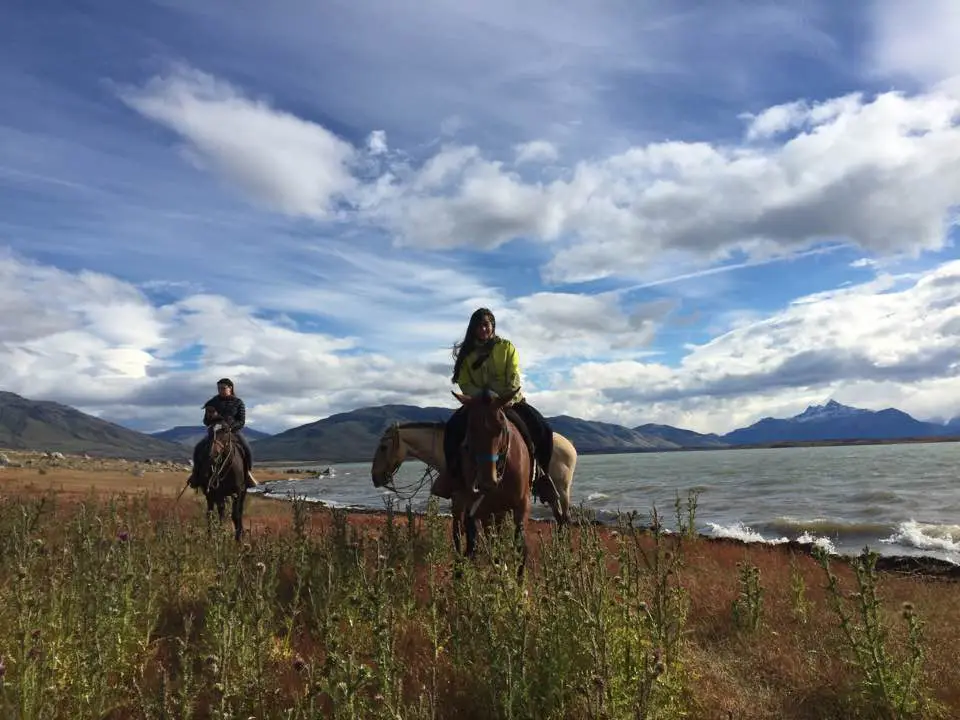 We particularly like to encourage people to discover traditional estancias to fully appreciate the culture of gauchos in Patagonia.
The
estancias
(typical ranches of Patagonia) are specialists in
horses,
which sheep farmers have used for centuries to drive
herds,
just as
cowboys would.
Their setting is splendid and often completely isolated. This is a perfect place to
horseback ride,
followed by a good traditional meal (often lamb) with a stunning view of the pampa. You can also see how wool is processed, extracted directly on site thanks to sheep farming.
Hiking on the most beautiful tours of Patagonia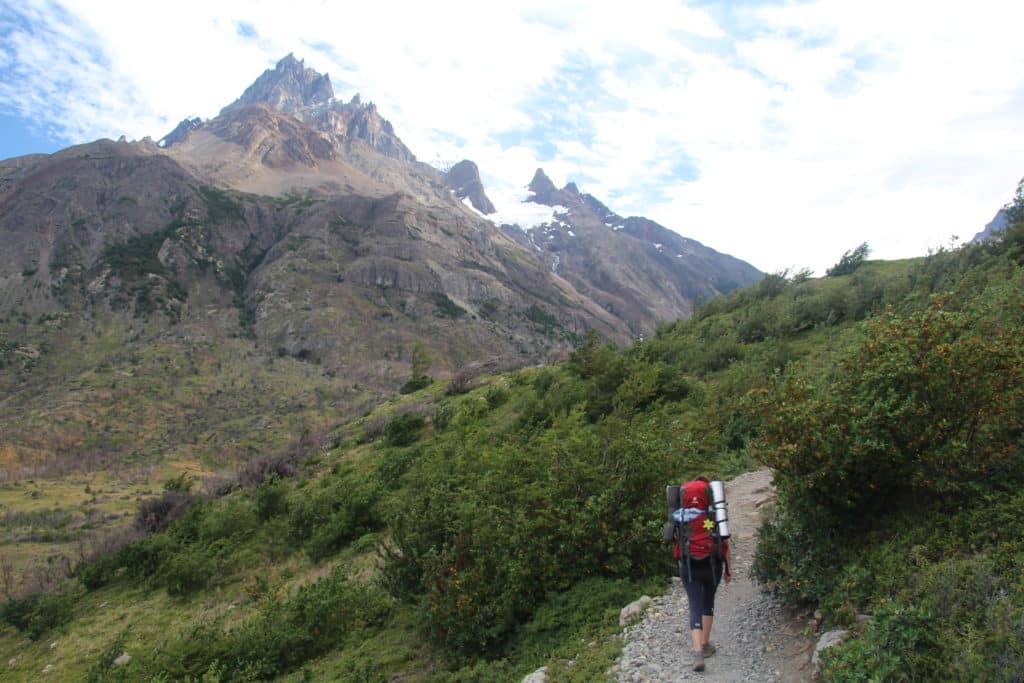 It goes without saying that Patagonia is a hiker's paradise. This area offers endless hiking opportunities. Though the most famous are the Dientes of Navarino, the "W" and the "O" in Torres del Paine, and the 4-day circuit in El Chalten, there are also many day hikes, ideal for families and those who do not want to embark on big trekking. Our selection:
Laguna de los 3 at Fitz Roy
Laguna Torre at Fitz Roy
Trekking Ferrier in Torres del Paine (difficult)
Sendero Los Cuernos in Torres del Paine
Mirador Condor in Torres del Paine
Torres Base in Torres del Paine
Mirador Bandera on the Isla Navarino
Wildlife watching: condors, penguins and whales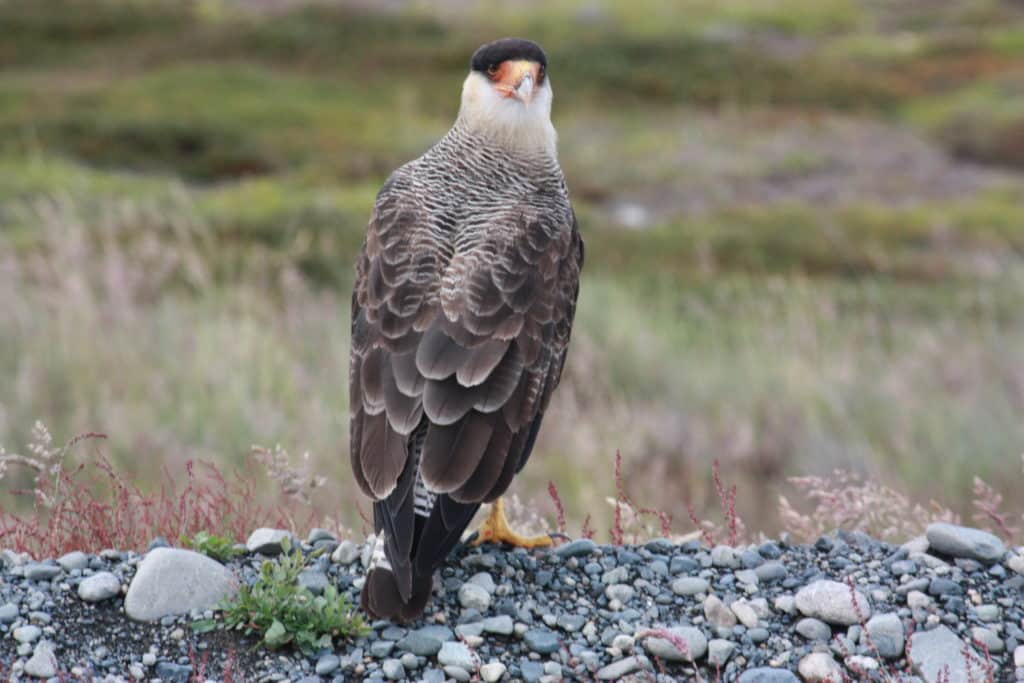 Your trip to Patagonia will also give you the opportunity to watch and take photos of animals in their natural environment. During your journey, some endemic species will surely cross your path, such as birds, guanacos, foxes, lips, andus… and of course, the famous condor!
Magellanic penguins and king penguins are found in CONAF-protected national parks. These include the Isla Magdalena, which is accessible by boat during a 1/2 day tour, and the colony of royal penguins on Tierra del Fuego, accessible by land.
As for the whales, they can be watched from the Francisco Coloane reserve, accessible by a multi-day boat trip. It is an unforgettable experience, but quite expensive.
Kayaking at the end of the world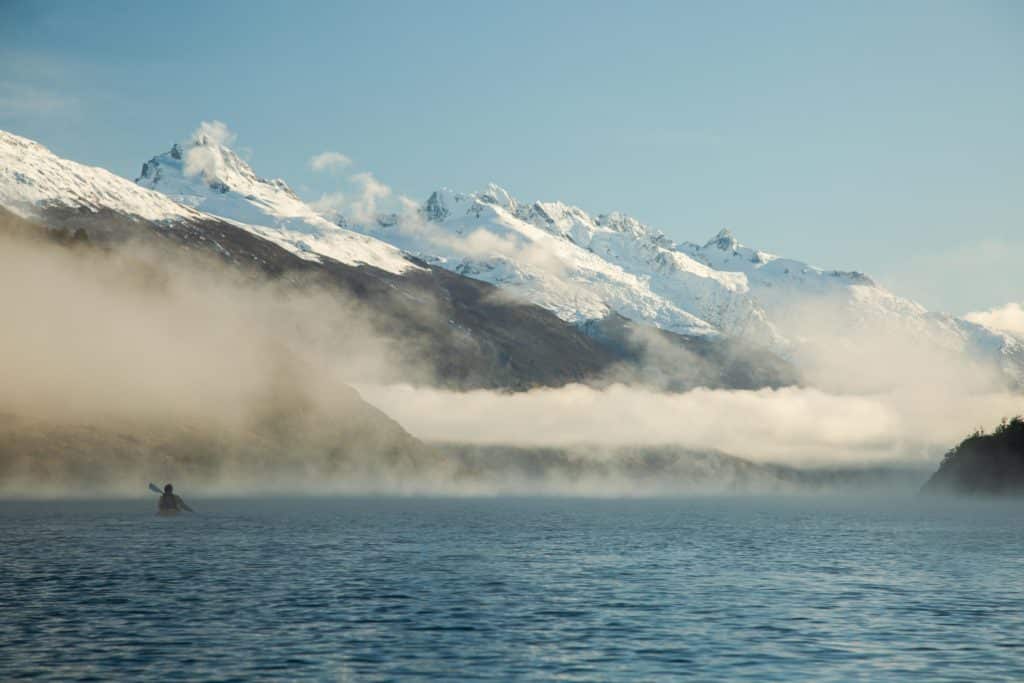 We are big fans of #slowtravel, so for us kayaking activities are a good way to discover spectacular scenery, feel closer to nature, and enjoy your trip without rushing. That is why we felt it was essential to offer this kind of tour to our travelers. We offer 4 ways to discover Patagonia thanks to this unusual formula:
Why not embark on a kayaking activity to Puerto Williams Bay and the famous Beagle Canal? You can observe birds, the traces of a war that almost was, and various views of the city and the mountains of Navarino.
Here you will discover a place where nature is king, free from human touch. This is where the road, accessible by car, ends, and where marine animals regain their rights. On top of that, the experience takes place in a wonderful environment. This 5-hour, easy-level kayaking trip gives the opportunity to visit the San Isidro lighthouse, but also to observe the local marine animals, such as sea bass, birds, and dolphins. With any luck, you will also spot whales.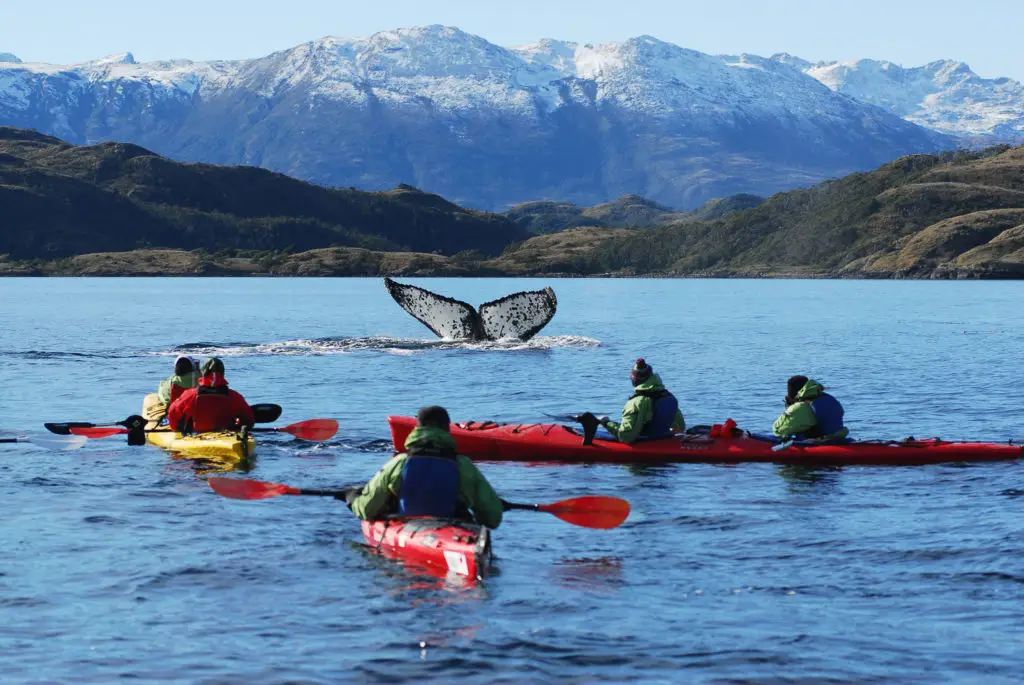 Discover the water sports that Escondido Lake has to offer! Hop on board a 2-seater kayak identical to the those used by indigenous people to move between the islands of Patagonia. Walk up to 3 hours to a typical estancia where you will enjoy a traditional lamb barbecue paired with local wine.
At the foot of Grey Glacier
On Grey Lake, you will have to row around icebergs in order to head towards the eastern part of the glacier, arriving as close to the wall as possible. Once you arrive, you can enjoy an incredible view paired with a hot drink and small snack. Weather permitting, you can head to an island called Nunatak on your return to base camp.
Discover the landscapes of Patagonia from the seat of a mountain bike
You can also rent mountain bikes to climb the rocky slopes of Patagonia! We recommend, for example, the Huemules Valley. This name is no coincidence: the huemul is an animal, similar to a deer, native to this part of Patagonia in Argentina.
Immerse yourself in the local culture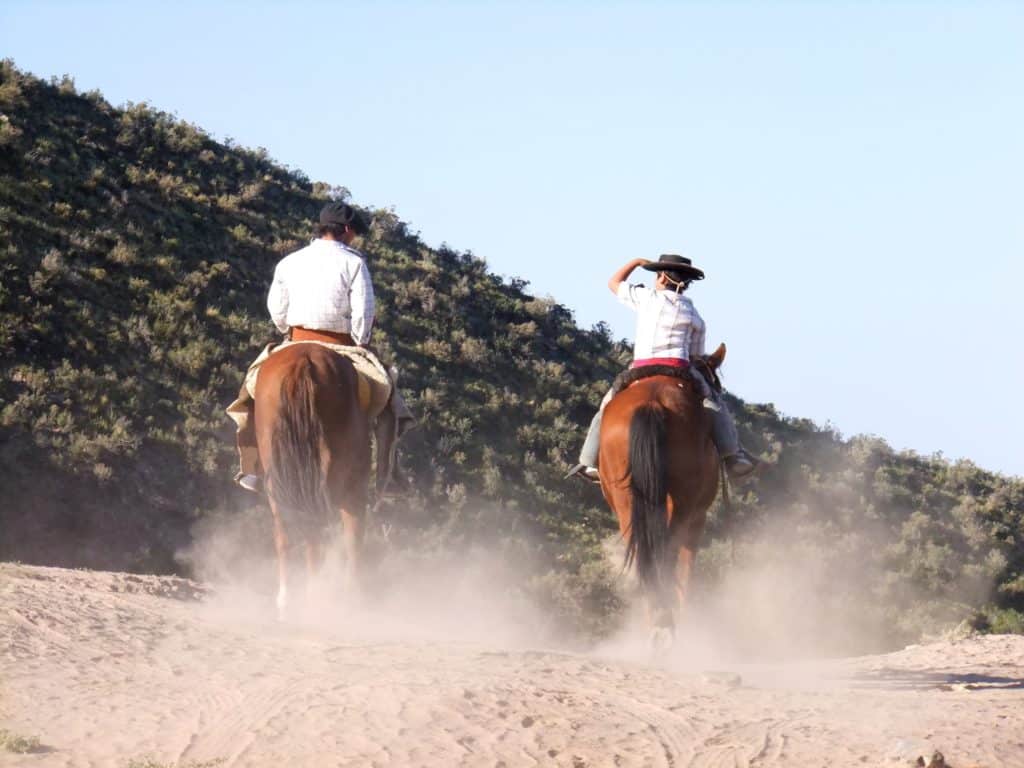 If you make friends with Argentinians, they will most certainly share a maté with you. Very popular throughout Argentina, maté is an herb, stronger than tea, served in a wooden container with a straw. It is a moment to enjoy with others: the bitter, strong drink is passed from person to person.
We also recommend partaking in a parilla (Argentinian-style grilled meat) drizzled with a good Argentinian wine in a typical restaurant. Finish your meal as the locals do, with a Fernet as a digestive (a strong Argentinian alcohol, made from several mountain herbs).
Let's move on to the practical section of this guide to Patagonia. We will answer the question, "What is the best time to discover Patagonia?" and deal with the subject of transportation for your journey to the end of the world.
When should I go to Patagonia?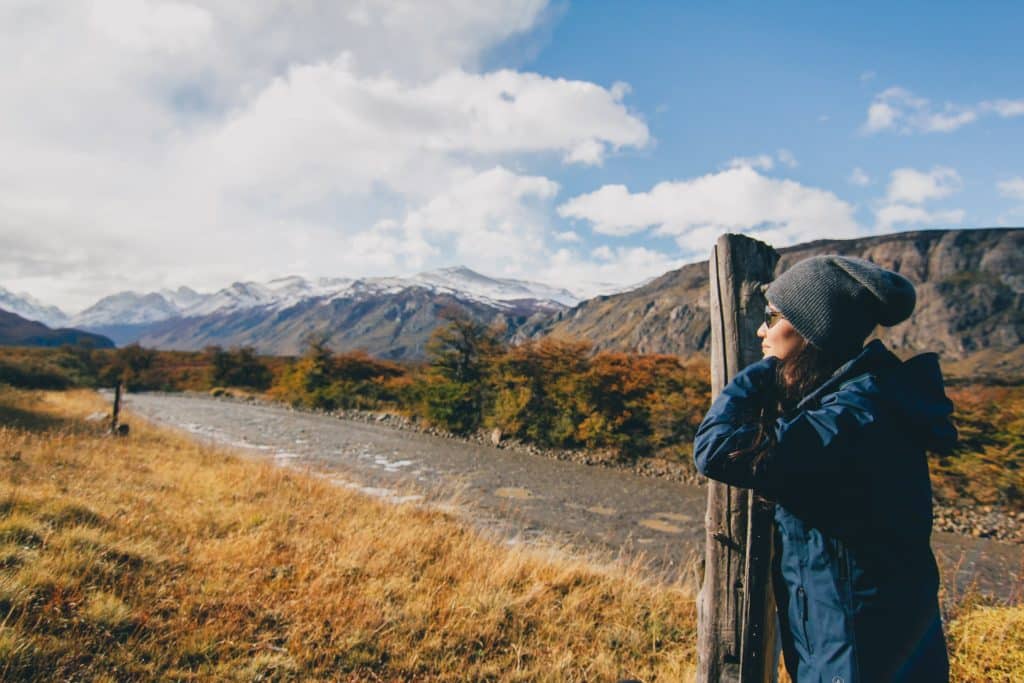 The best season to travel in Patagonia
First of all, whatever month you choose, in Patagonia you could experience all 4 seasons in a single day! The weather is fickle and unpredictable.
That being said, the best season to travel in Patagonia is between November and March, during summer in the southern hemisphere. The month of April is also favorable because it is much less touristy and also less windy. October is also an option, though it is still considered a low season. Traveling in the summer in Patagonia will allow you to experience various outdoor activities such as hiking and trekking, kayaking, horseback riding, and many others. In winter, Patagonia is blanketed in snow. Daylight only lasts a few hours a day, and the icy wind almost prevents any visit.
What about Patagonia in winter?
Patagonia does remain accessible during the southern winter, even though a large number of our providers close. However, if a stay in Patagonia in June, July, or August is the unique adventure you are looking for, expect quite extreme temperatures and a lot of snow. This type of stay must be organized in advance and a guide must be factored in (Torres del Paine Park requires the presence of a guide for winter hikes).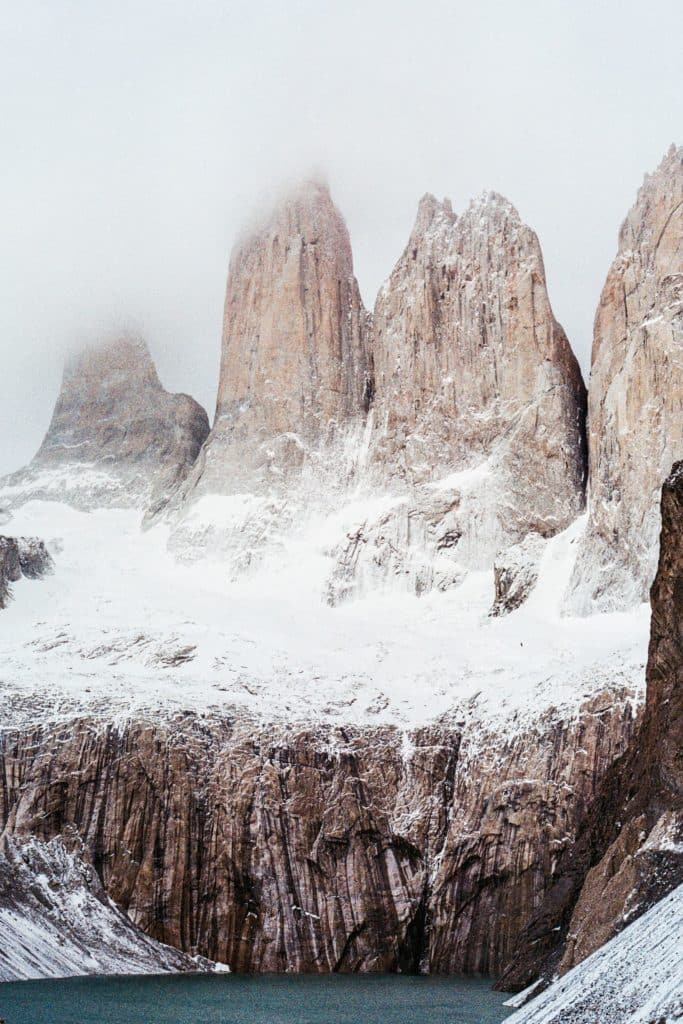 What temperatures should I expect?
In summer, temperatures range from 43 to 64°F, while in winter the minimum temperature can drop to 25°F, and the high would be around 40°F. As for the climate, it is rainy most of the year. Rainy days are evenly distributed throughout the year.
How do I get to Patagonia?
If all the elements we have mentioned so far have convinced you to travel to Patagonia, you may be wondering how to get there Let's look at the different options together.
Argentinian Patagonia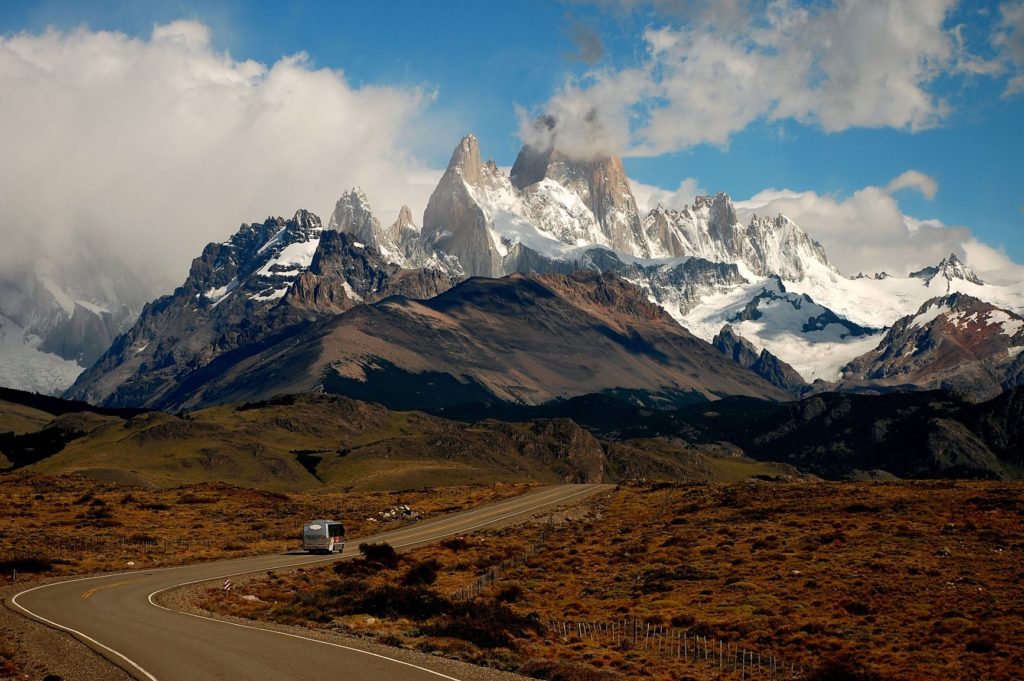 There are two ways to access El Calafate. By air, the easiest way is to catch a flight from Buenos Aires. One of the companies that connects the two cities several times a day is Aerolineas Argentinas. We advise you book this flight as early as possible as the prices vary greatly. The flight costs at least $170 USD.
You can also reach El Calafate from Puerto Natales via a 5-hour bus ride or a 4-hour drive. To do this, you will have to take into account a border crossing and have the mandatory insurance for your vehicle, whether it is rented or yours. El Calafate can also be reached from Bariloche in just over 24 hours by bus, which is a long trip.
Ushuaia is also accessible by air, from El Calafate or Buenos Aires. By road, from Punta Arenas, you can take a 10-hour bus ride that will cross Tierra del Fuego.
Chilean Patagonia
The gateway to Chilean Patagonia is Punta Arenas, which can be reached by plane from the Chilean capital Santiago as well as from Puerto Montt in the Lakes District. The 3 airlines that operate these flights are Latam, Sky Airlines, and Jetsmart. From Punta Arenas, you can reach Puerto Natales by 3-hour bus ride or by car in about 2.5 hours.
Connecting to Punta Arenas by road involves crossing over into Argentina, and it is a very long journey. It is also possible to take a 4-day, 3-night ferry from Puerto Montt. This is a once-in-a-lifetime experience that we recommend to all fans of #slowtravel. The more adventurous traveler can also consider connecting Carretera Austral and Puerto Natales with a ferry from Tortel. Finally, there is also the option of connecting Carretera Austral (Chile Chico) and El Chalten via 12-hour bus ride.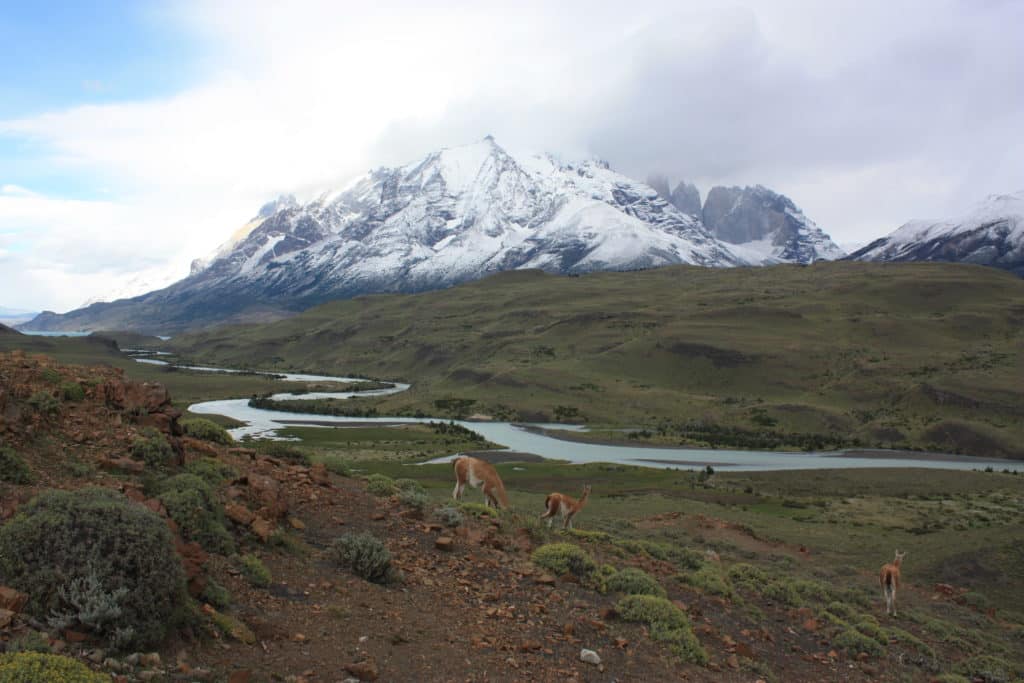 How do I travel to Patagonia?
We strongly recommend renting a car to discover Patagonia. Another option for those who want to experience slow travel and more adventure is to rent a camper van.
4×4 is not 100% mandatory, but it is still recommended if you have the budget. Don't forget to purchase insurance that will allow you to cross the Argentian/Chilean borders.
Also, be aware that renting a car in one place and returning it in another location hundreds or even thousands of miles away is extremely expensive. For example, the drop-off fee for renting a car in Puerto Montt and dropping it off in Punta Arenas is more than $1000 USD. That is why we don't recommend this option.
That's it! Now you know almost everything you need to organize your trip to Patagonia. Now let's see how you can best prepare for your trip. Of course, the best possible preparation is to make an appointment with our team to ask all your questions and receive precise and personalized answers about your travel plans in Patagonia.
How do I prepare for my trip to Patagonia?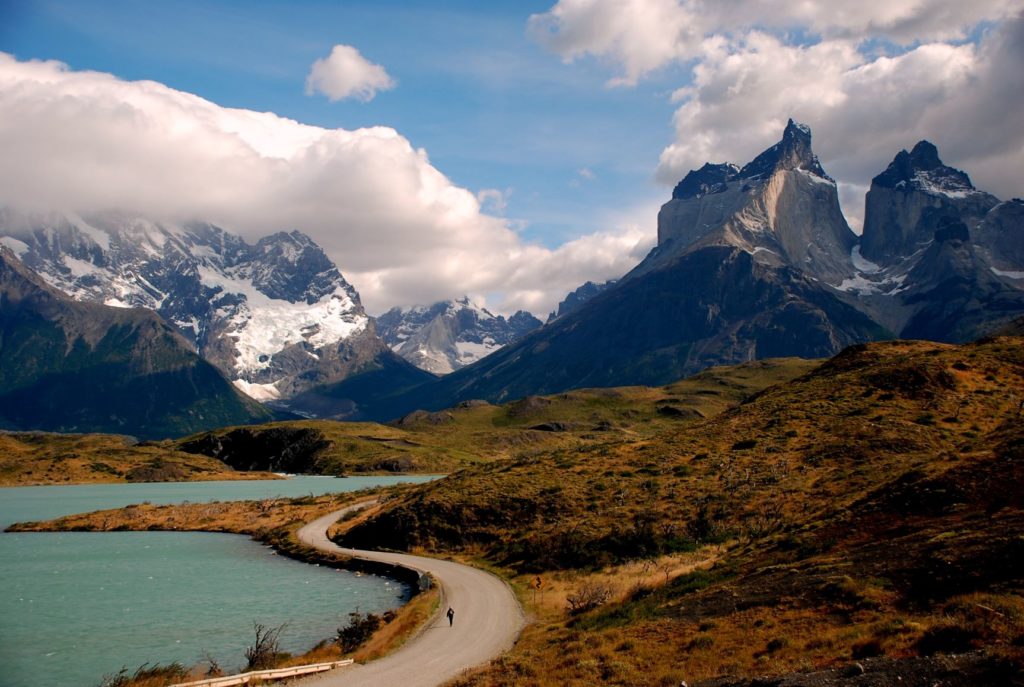 How much would a trip to Patagonia with a travel agency cost?
Of course, choosing a travel agency to arrange your stay in Patagonia will depend on some choices you make.
One of the important criterion is related to transportation. If you choose a group trip, you will have a better chance of lowering the cost than a private trip for two. The best option is to organize a self-driving tour with your travel agency. That is the formula we recommend as a priority. This is suitable for families as well as for couples looking for comfort, as well as retirees that like to travel independently. Smaller budgets will opt for renting a car for a few days to explore places that require one. All other journeys can be made by bus in order to reduce costs. An organized trip with a private driver starts at more than $140 USD per day for transportation.
In terms of price, it costs about $20 USD per 3-5-hour bus ride. Renting a compact car costs $60 USD a day, while a 4×2 crossover is around $90 USD. A comfortable 4×4 will cost you around $120 USD a day.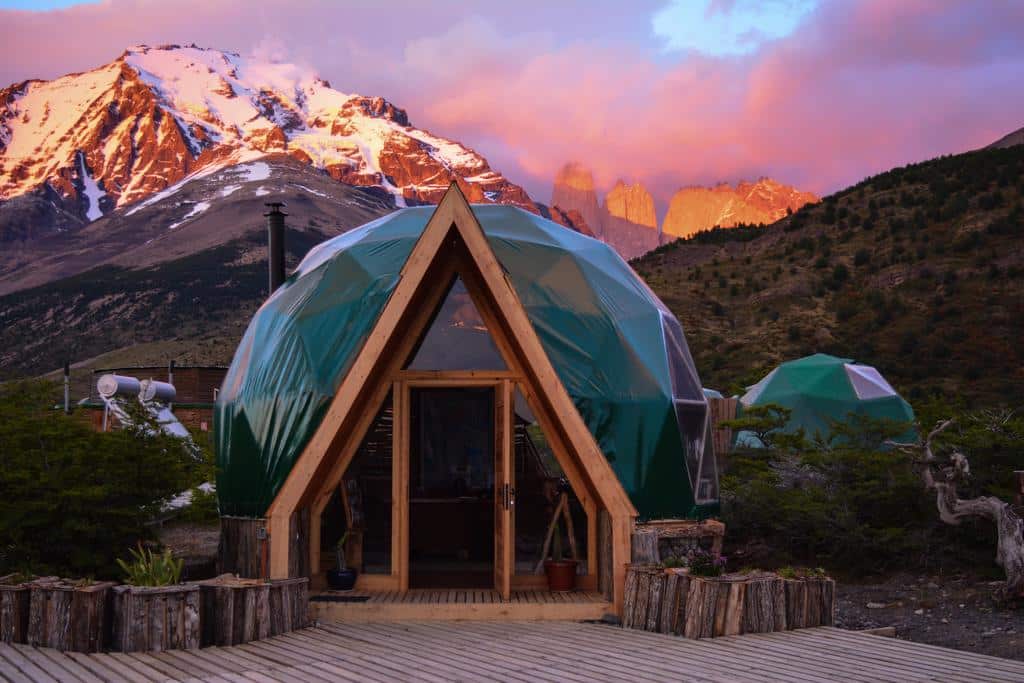 A second criterion to take into account is of course accommodation. An advantage of Patagonia is that it offers a range of accommodations. The biggest problem with accommodation in Patagonia is the availability in Torres del Paine Park. As Torres del Paine Park is extremely popular and therefore completely saturated by demand, it is essential to book at least 6 months in advance. Hotels in Torres del Paine cost at least $120 USD a night for a single room without breakfast. Comfortable rooms start at $250 USD per night, while luxury accommodations can easily run around $600 USD. Elsewhere in Patagonia, the price of accommodation would be the following (large range):
Basic double room: $90 USD
Comfortable double room: $120-$200 USD
Double room in a high-end hotel: $220-$400 USD
Double room in a luxury hotel: $500 USD or more
Finally, the price of a trip to Patagonia depends on the activities chosen. The most budget-friendly activities are trekking and hiking. A glacier cruise costs about $130 USD per person. Horseback riding starts at $65 USD per person.
What should my itinerary be and how many days will I need in Patagonia?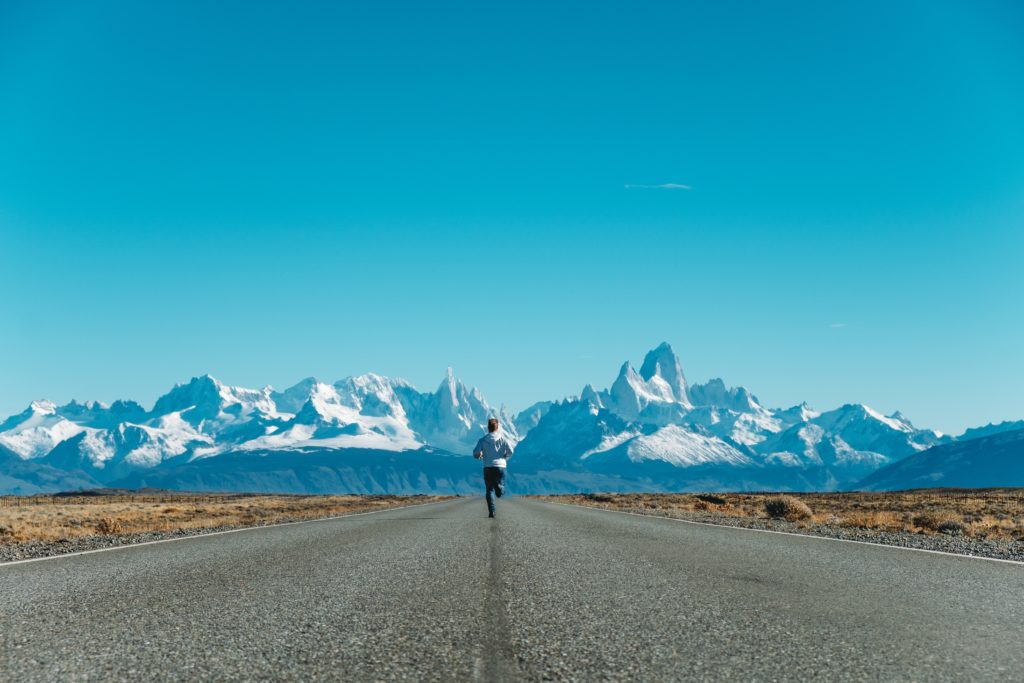 5 days
The minimum duration for your trip to Patagonia should be 5 days, and you will have to choose between Chilean Patagonia or Argentinian Patagonia and opt for a car rental. If you decide on Chilean Patagonia, 5 days gives you just enough time to visit the Isla Magdalena and meet the penguins of Magallanes, as well as spend two days at Torres del PainePark to visit the Grey Glacier and go hiking. A stopover in Punta Arenas and Puerto Natales will be mandatory during your road trip. You could also consider the "W" trek to Torres del Paine.
1 week
If you have 7 days for your road trip in Chilean Patagonia, then you can add unusual activities to your itinerary. For example: an excursion to an estancia with a horseback ride, or even a day tour at the spectacular Estancia Peninsula. It may also be possible to take a full day cruise to the Balmaceda and Serrano glaciers.
If you are looking for a 5-day itinerary in Argentinian Patagonia, then you can discover the Perito Moreno glacier, as well as go for easy hikes in Fitz Roy. Your two stops would be El Calafate and El Chalten. By adding two days, and thus planning to spend 1 week in Argentinian Patagonia, you can consider an additional activity such as a hike on the Perito Moreno glacier or cruising the Argentino Lake to discover the Upsala and Spegazzini glaciers.
In 1 week in Argentinian Patagonia, you might also consider taking a 3- or 4-day tour of Fitz Roy and then visiting the Perito Moreno glacier from the footbridges.
10 days
If you want to spend 10 days in Patagonia, then we advise you combine Argentinian and Chilean Patagonia as a road trip. For example, you could arrive at Punta Arenas and make a round trip to El Calafate. During this type of itinerary you could visit the must-sees of Chilean Patagonia–Isla Magdalena and Torres del Paine–and then pay a visit to the famous Perito Moreno. You would also have time to add on one or two unique experiences (such as hiking on glaciers or an excursion in an estancia).
On the other hand, for 10 days in Patagonia from El Calafate, you could take a short 2-day visit to Torres del Paine after discovering the famous Perito Moreno glacier and hiking several days in the Fitz Roy around El Chalten.
2 weeks
Finally, in 2 weeks you can explore Patagonia in depth. It is possible to discover Argentinian and Chilean Patagonia by car , or even by bus if you have a smaller budget. Essentially, 15 days allows you to discover the must-sees of both Argentinian and Chilean Patagonia: El Chalten, El Calafate, Torres del Paine, Puerto Natales, and Punta Arenas. You could also opt for an immersive stay in Chilean Patagonia with a visit to Tierra del Fuego and Navarino Island.
3 weeks or more
For a 3-week trip, you can plan a more extensive route through Patagonia. Either combine Carretera Austral with Chilean South Patagonia, or combine Chilean Patagonia and South Argentina with a stopover in Ushuaia.
Finally, with one month, you can traverse almost the entirety of Patagonia .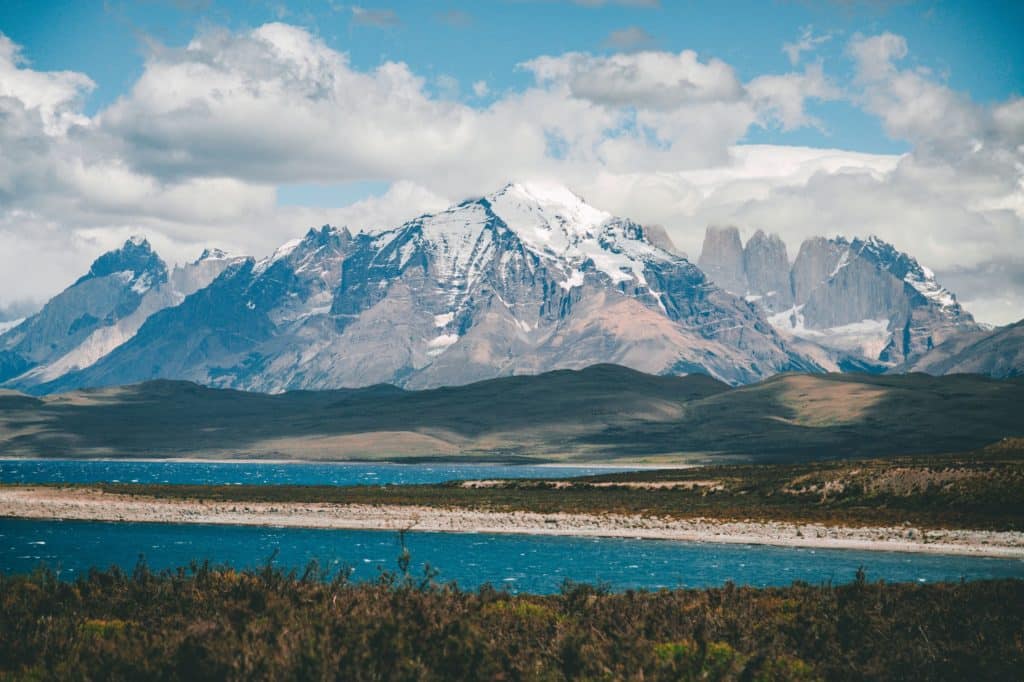 What documentaries do you recommend?
Among our favorite documentaries about Patagonia, we particularly recommend the following:
"Thalassa Nature: Patagonia Nature Extreme" on France 3 (French television)
"Patagonia, in the Wake of the Whales" on France O
"Beautiful Escapes: Patagonia, the Great Spectacle of Nature" on France 5 (French television)
"Patagonia, Time Masters" on replay on France 5
Check out our travel blog
If you are a fan of travel stories, or you like reading blog posts to help prepare your itinerary, you will love our travel blog on Chile. We share plenty of recommendations and travel ideas, such as our tips for an unforgettable getaway to Patagonia.