Before going into detail about the must-see places and things to do on Easter Island, let's locate the island. Easter Island is situated 2,300 miles from the Pacific coast and 2,500 miles from Tahiti. Sounds pretty far, doesn't it? Take a closer look at our map.
Hidden in the middle of the Pacific, Easter Island belongs to Polynesia, but it is attached administratively to Chile, making it the most remote island of its continent in the world.
The island is not very large and looks like a triangle with sides of 15, 11 and 10 miles long, for an overal area of 64 square miles. However, spanning this small surface, you will find the perfect blend of paradise-like landscape, culture, and history. Now, we will give a brief overview of the points of interest on Easter Island, as they appear on our interactive map.
Detailed map of Easter Island
Easter Island is mainly known for its moai and ceremonial altars (called ahu). But these stone heads are not the only factor contributing to the mythology around Easter Island. Here are 5 mysteries that surround the history of the most isolated island in the world.
Mysteries surrounding Easter Island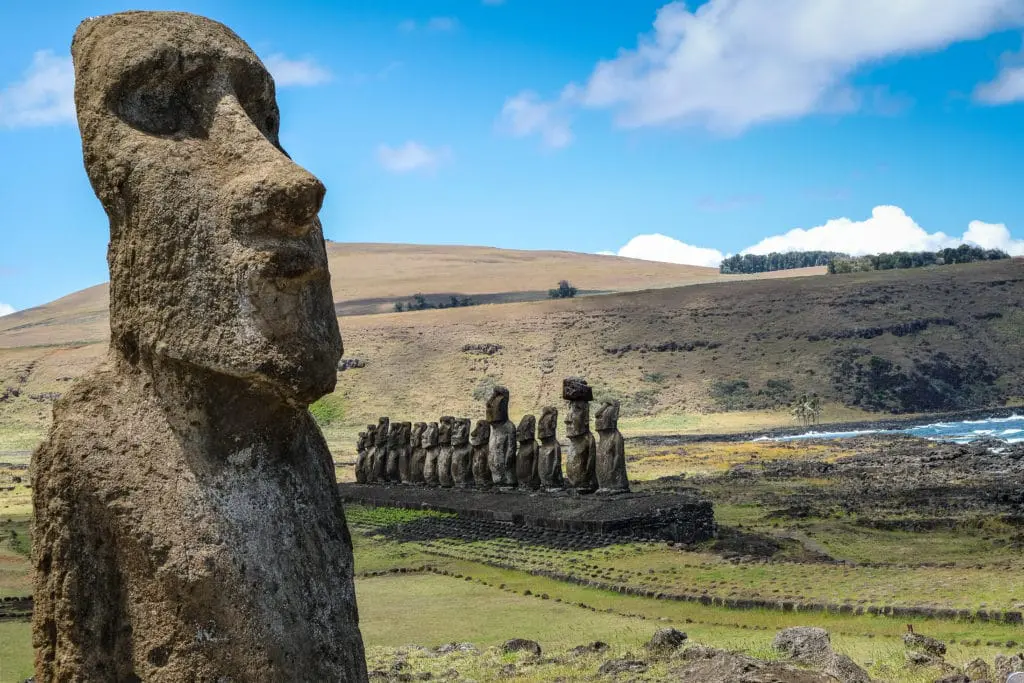 History
Unfortunately, it is not clear when exactly the island was settled, nor how it was discovered. The knowledge and traditions of the island's past were lost when the last Maori rongo rongo (native inhabitant) died in 1863.
One of the most common theories is that the island was discovered by the Polynesians 1500 years ago, probably those sailing from Marquesas Islands in double-hulled canoes. Pascuan oral tradition says that each of the 7 sons of Polynesian king Hotu Matu'a was sent to a different corner of the island, creating different tribes.
Although there is very little information about the Pascuan society from the 5th to the 17th centuries, it is assumed that there were two distinct eras.
One was the ahu moai, which marked the heyday of the stone heads and lasted until the 1680s.
The second is known as the huri moai, from 1680 to the arrival of missionaries in 1864. The 19th century marks the end of the cult of moais, probably related to fighting between the clans (which may also be linked to the overcrowding of the island). The Birdman cult began in this era.
This was followed by an era impacted by European explorers, slavery, and missionaries, who ended Pascuan civilization. The island officially became Chilean in 1888 and endured a nightmare for years. In 1960, the installation of electricity, running water, school, voting rights, etc. gave to its inhabitants a better quality of life.
Interpretation of stone heads on Easter Island
Moai are world-famous and have contributed greatly to the international renown of Easter Island. However, these statues refuse to reveal all their secrets, and mystery still exists regarding their origin and their construction by the Pascuan society. Most likely, these stone giants represent the living faces of the native ancestors so that they can still exercise their power to protect the tribe. The clans ordered the construction of moai to honor their deceased. These were built on the Rano Raraku volcano and are made of volcanic stone.
Transportation of moai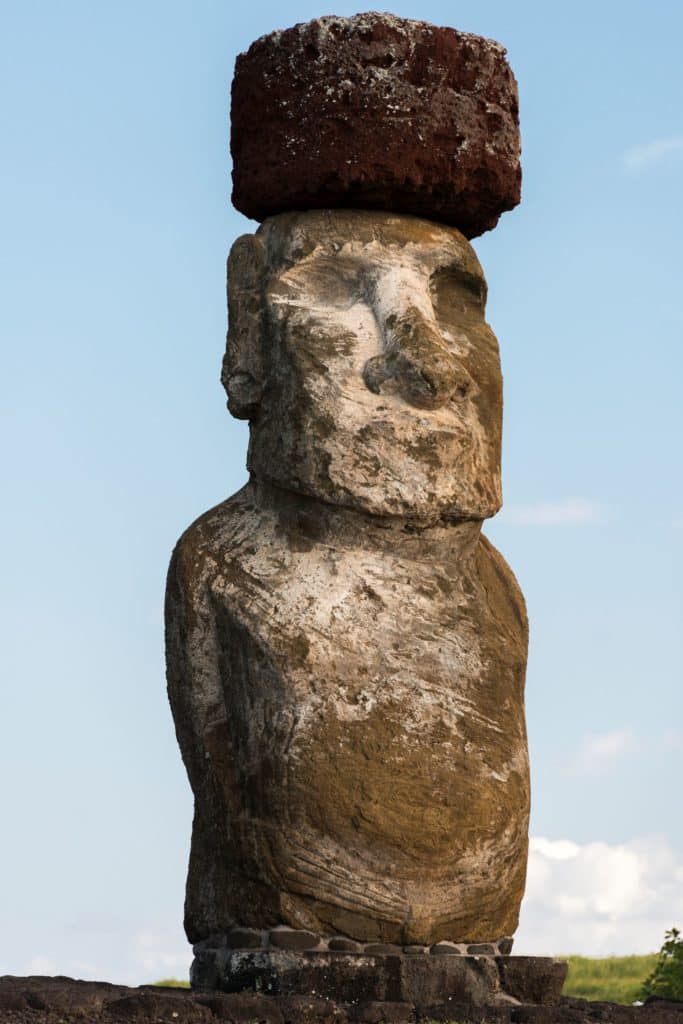 Here is a debate that really stumps visitors, and which is still not fully resolved today: how were the moai moved? Bear in mind that these stone heads weighed several tons and that they had to be transported several miles without any mechanical assistance. Some say they were dragged over the mud when it rained, while others claim they were rolled on wooden logs. Some archaeologists have deduced from the gravity of the statues (and the base of the rounded statues) that the moai could have been "simply" moved from left to right, standing, held by ropes on the front and back, as if they were dancing!
Easter Island inhabitants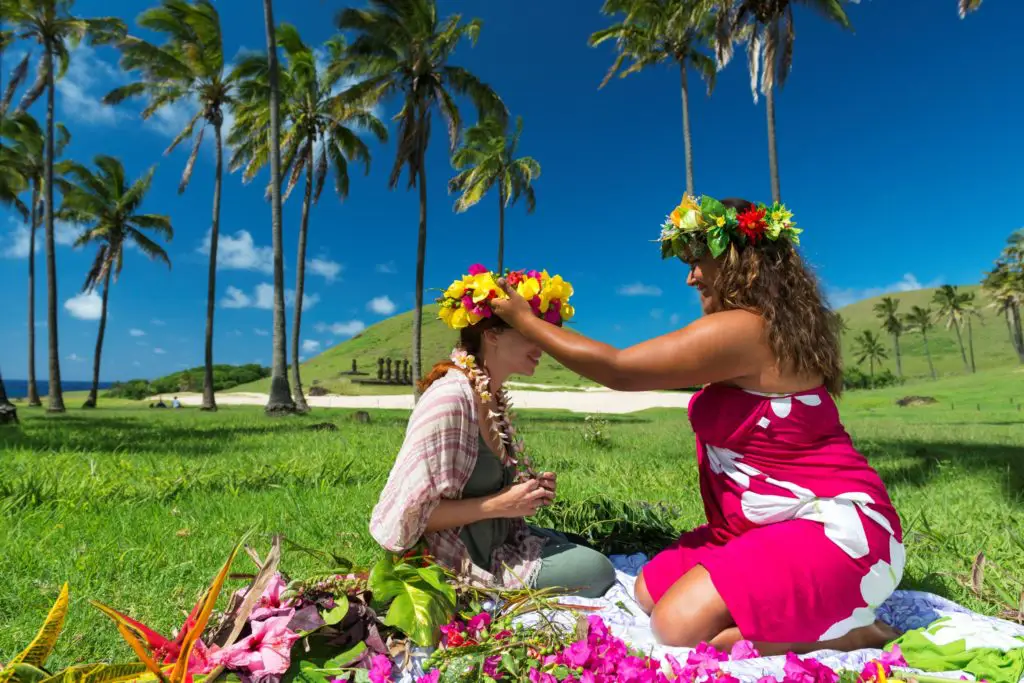 Today, the island's inhabitants, called Rapa Nui, have not forgotten their roots and are trying to preserve their culture. In fact, there is a cultural movement encouraging young people to adopt the customs and learn about the traditional way of life. The locals identify much more as Rapa Nui than Chilean, by the way. When you meet them, don't hesitate to ask questions to find out more about the island's origins and culture. They will be thrilled to share their story. From a political perspective, Rapa Nui has gained more administrative freedom since 2007. Although it technically depends on the Chilean province of Valparaíso, it can negotiate directly with the government and benefit from its juridical status as a special territory.
Tapati and traditions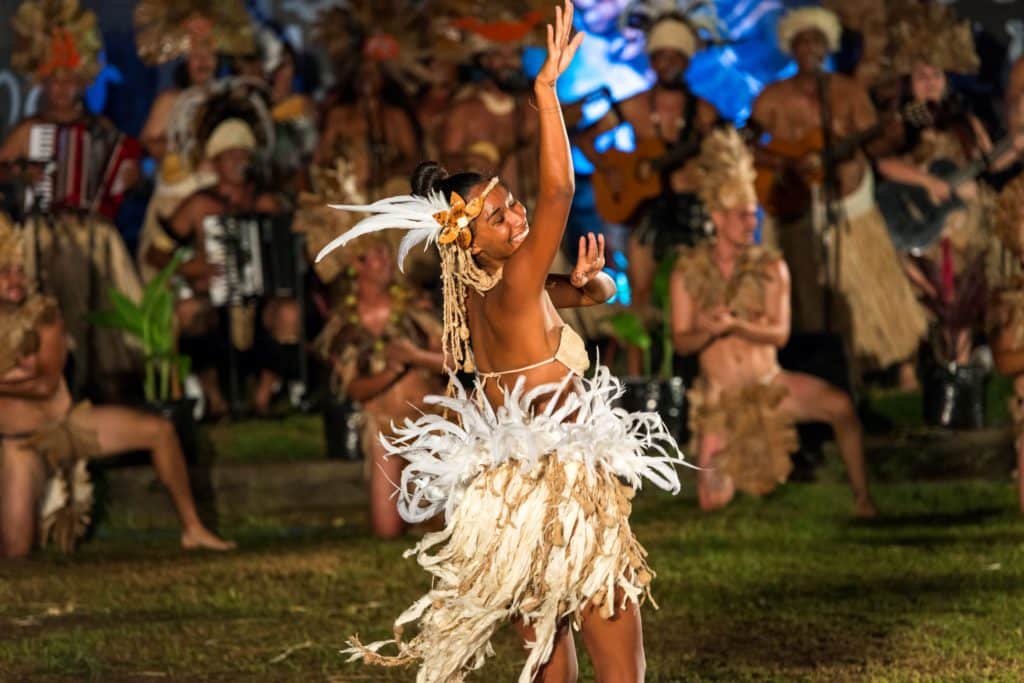 Every year in February, Tapati takes place. This is a traditional festival during which the various local teams test their Pascuan skills. The celebrations are held near to the site of Orongo. These are the different events that usually take place:
Vaka Tuai: each team will have to recreate a traditional Polynesian boat in which the group will sail in traditional clothes.
Takona: body painting competition. As in the rest of Polynesia, during the traditional ceremonies the Rapa Nui painted their faces and bodies according to the rank they held in society.
Riu: interpretations of traditional songs about stories and legends of the Rapa Nui people.
Hoko Haka Opo: competition between various traditional music groups.
Haka Pei: risky competition where young people slide on 400-foot-long banana tree trunks at a slope of 45 degrees. They can reach speeds of up to 50 mph.
Titigui Mahute: making traditional costumes of mahute (a plant introduced by the first inhabitants of the island).
Pora: totora boat competition. Competitors are evaluated on a run of 5,000 feet in typical costumes and body paint.
Tau'a Rapa Nui: sports competition that takes place at Rano Raraku, similar to a triathlon. The competitors alternate between three traditional modalities: Vaka Ama (small totora canoes), swimming, and Aka Venga (running with two bunches of bananas carried on the shoulders).
Do you want to learn more about the history of Easter Island and its culture?
There are 2 good museums on Rapa Nui. The anthropological museum, where you can discover the culture, beliefs, and traditions of Easter Island, and the Tadeo-Lili Museum, where you can learn about the island's history.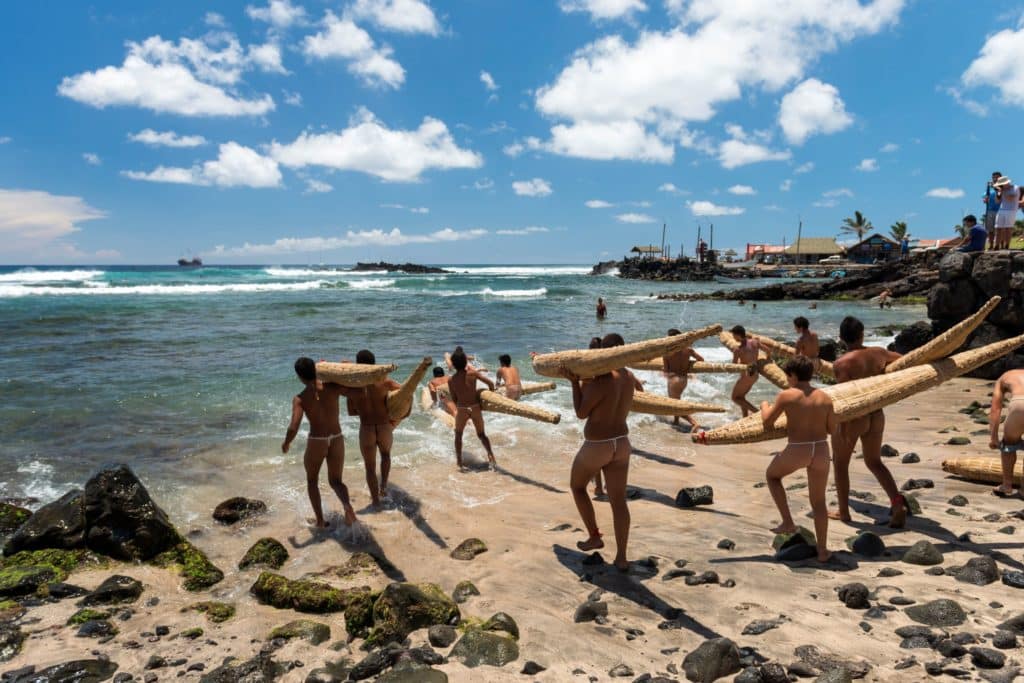 The island seems small, so you might think that you can quickly take it all in. You'd be mistaken. Of course, it is not very large, but its rich culture and beautiful landscapes deserve a visit of several days. Check out our selection of must-see places. We also recommend reading our itinerary on Easter Island in 5 days.
The essential sights and experiences during your Easter Island stay
Hanga Roa, the quiet village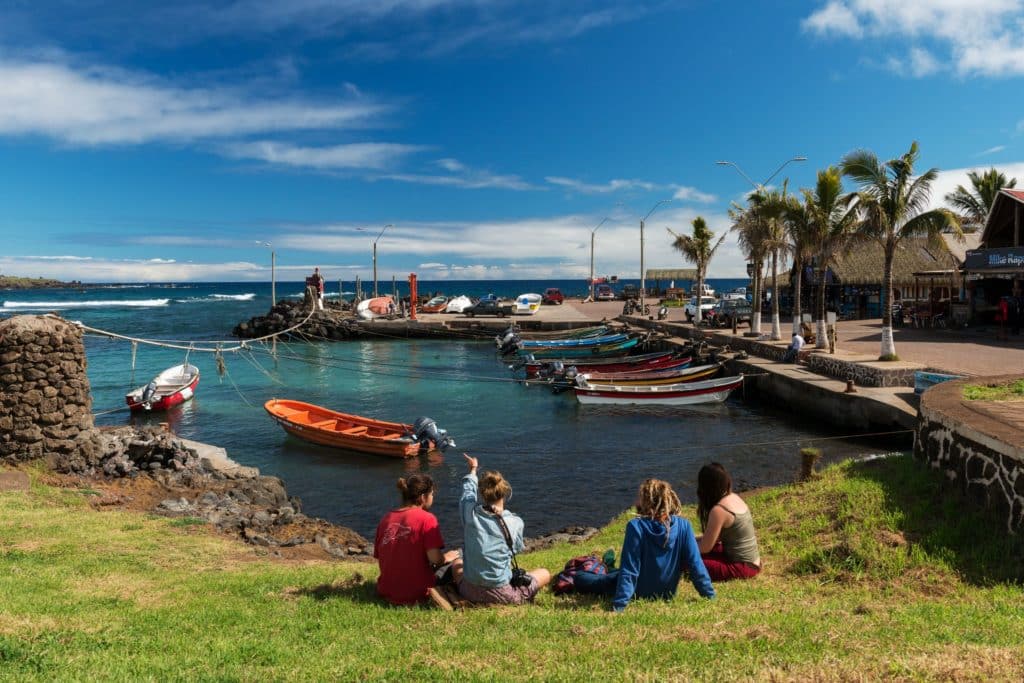 As soon as you leave the plane, you will be greeted with a necklace of flowers, thus getting the opportunity to immediately experience the atmosphere of Easter Island. You will feel transported directly to Polynesia. Once settled in your accommodation, we advise you explore Hanga Roa, which is the island's main village. The town is serene and veiled in a pleasant sea breeze.
Ahu Tahai at sunset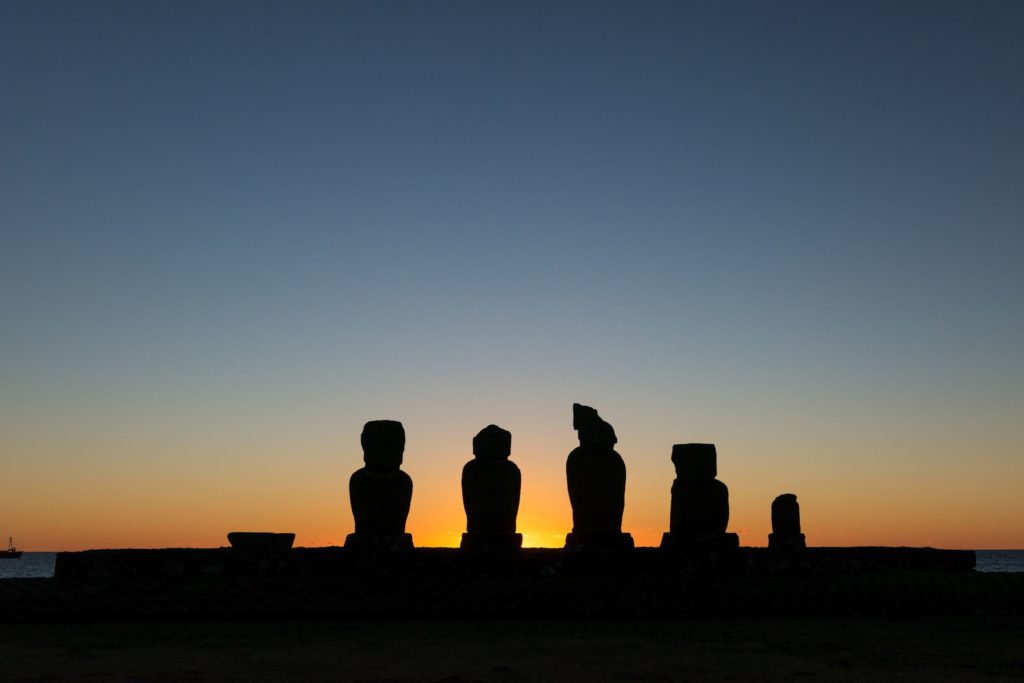 We recommend you visit the Tahai archaeological site! It is the most accessible site with the moai… in addition, the spot is ideal for taking in the sunset. On the road, you can also see 2 lonely moai, including one with eyes (the only one with eyes on the island, in fact).
To finish your day peacefully, wander the alleys and discover the local gastronomy.
Rano Kau, the sacred volcano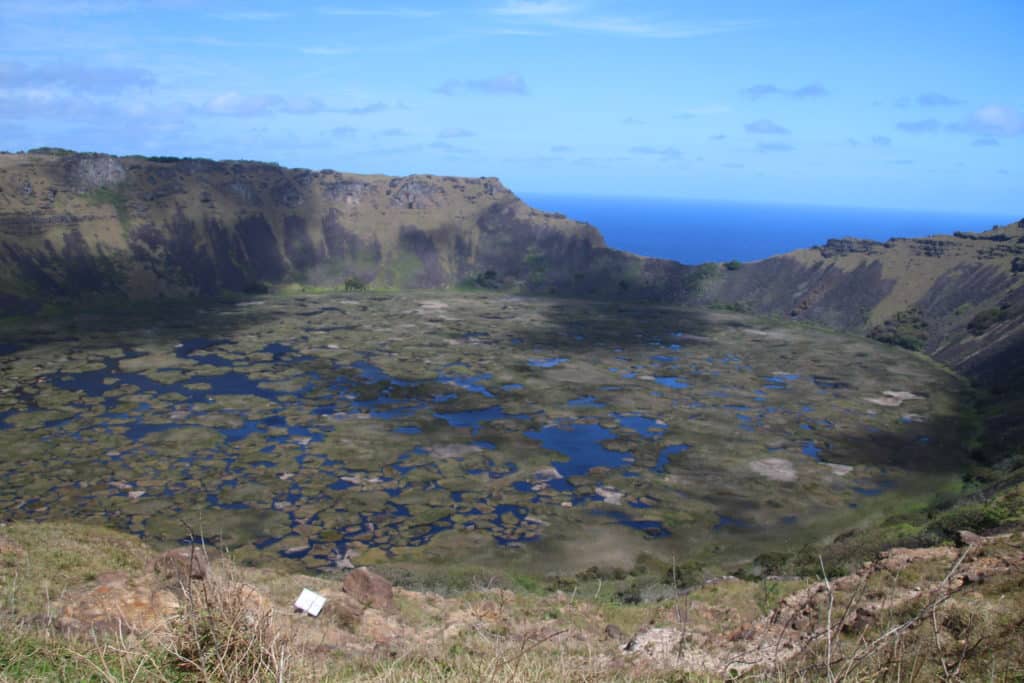 Easter Island is a volcanic island. Today, although the island has 70 volcanoes, only 3 are well known. Rano Kau is the largest volcanic crater on Easter Island. The spectacular eruption of Rano Kau took place two million years ago, one of the three great eruptions that gave life to this magical island in the middle of the Pacific Ocean. The Rano Kau is accessible by foot (recommended), by bike, or by car. From the summit, you will discover a crater filled with a lake in beautiful shades of green and blue. The ocean appears in the background. The place is magical. This impressive crater with a 0.6-mile diameter holds a large fresh water lagoon. There are some small islands made of reeds, with abundant vegetation and the presence of an aquatic microfauna.
Orongo, the ceremonial site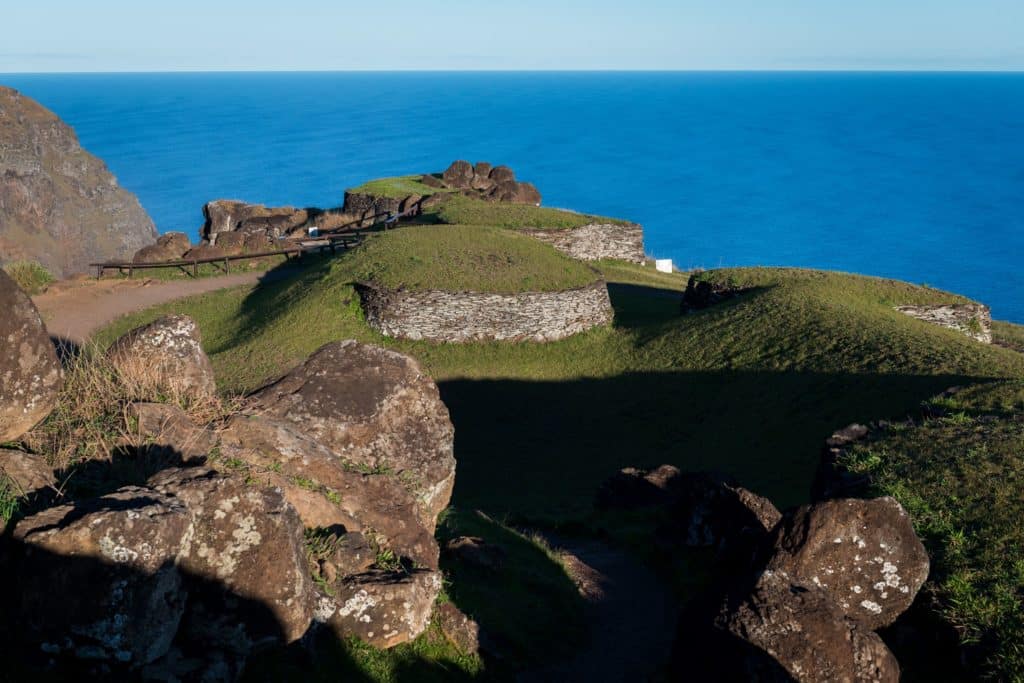 To the south, the ceremonial village of Orongo consists of well-preserved ruins of traditional houses and petroglyphs. In addition, it offers a beautiful view of Motu Nui islet, where the Birdman took place. The site includes 53 houses built with flat stones that used to comprise the ceremonial village of Orongo. Rocks with petroglyphs are also located there. The cult of the Birdman took place on this site as part of an annual ceremony that aimed to elect one of the most important men of the island, who was supposed to ensure a link between God and men. This ceremony consisted of sending chosen servants to jump off the cliff and swim to Motu Nui, retrieve an egg, and bring it back to the king (after swimming back and climbing the cliff!). The anthropological museum Padre Sebastian Englert is the perfect place to learn more about the origins and different theories related to Easter Island.
Ahu Akivi, 7 moai who watch the ocean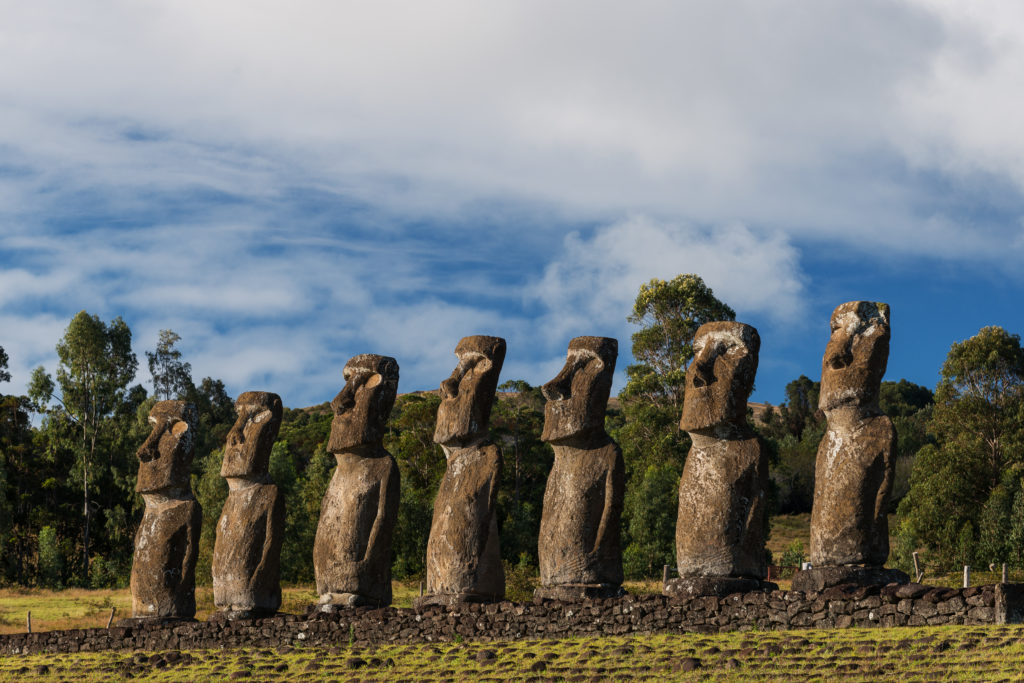 Akivi Ahu is known for its 7 moai that stare out at the sea. This is the only place on the island where the stone heads face the ocean! These 7 moai represent the envoys of King Hotu-Matua. The site is the access point of two hikes: one to the top of the island and one to go west, towards the ocean and down along the coast towards Hanga Roa.
Puna Pau, career of moai headdresses
The site is located in the center of Easter Island. We recommend visiting and then heading on to the west coast. It was in Puna Pau's stone quarry that the headdresses of the statues, the pukao, were carved. You will no doubt enjoy the panoramic view of the city that this place has to offer.
Ahu Tongariki and his 15 moai, at sunrise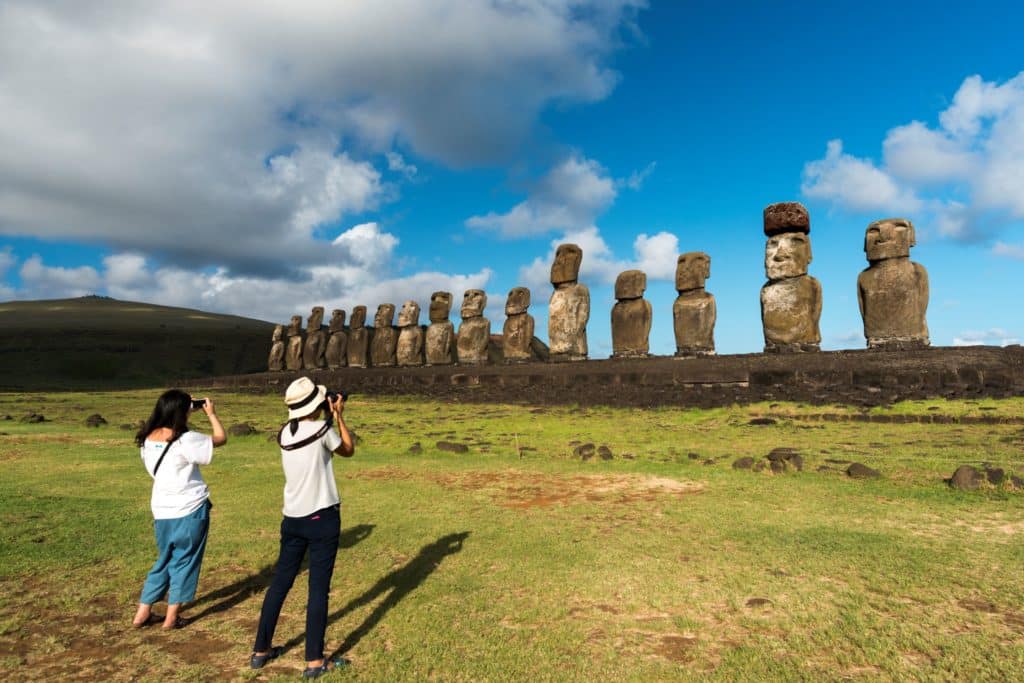 The imposing Tongariki site includes 15 moai lined up with their backs to the sea. This is one of the most popular places on Easter Island. The Ahu, a kind of ceremonial platform that lies below the moai, weighs 84 tons! A popular spot to admire the sunrise, this place looks just like a postcard.
Rano Raraku, the career of moai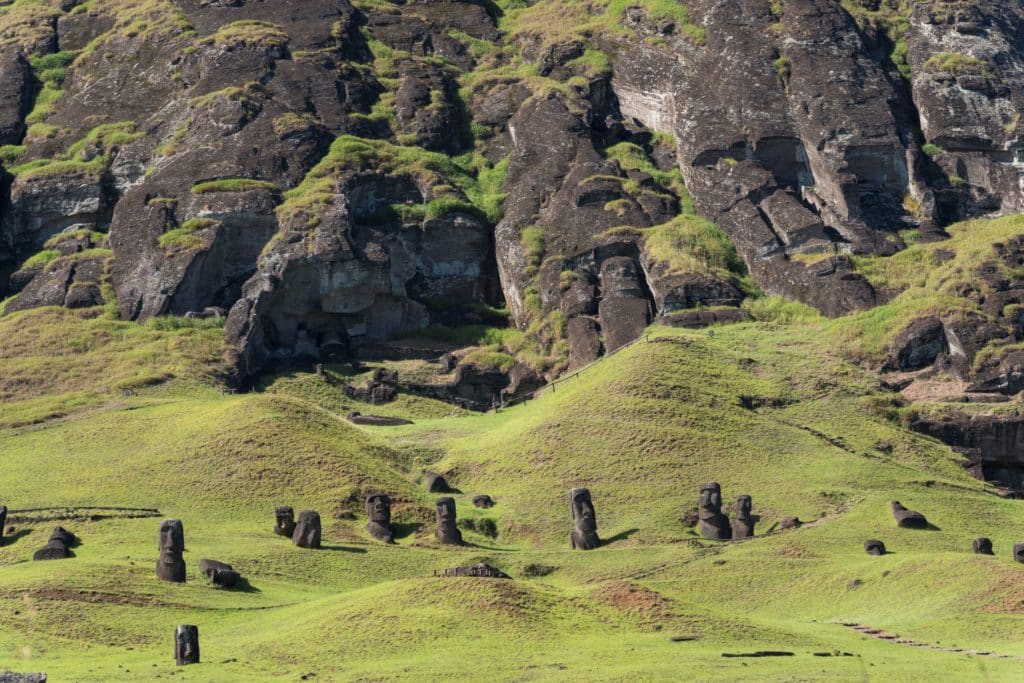 The world-famous moai are silent witnesses of the Rapa Nui ethnic group's past. Across the island, there are more than 1,000 replicas of these giant sculptures carved into stone, and 400 of them can be found in the rocks of the Rano Raraku volcano. Its surroundings make it, for many, the most mystical place on Easter Island. Give yourself plenty of time so you don't miss anything. Wander aimlessly up the heights, but don't miss the Giant, the largest moai ever carved.
Anakena's paradise beach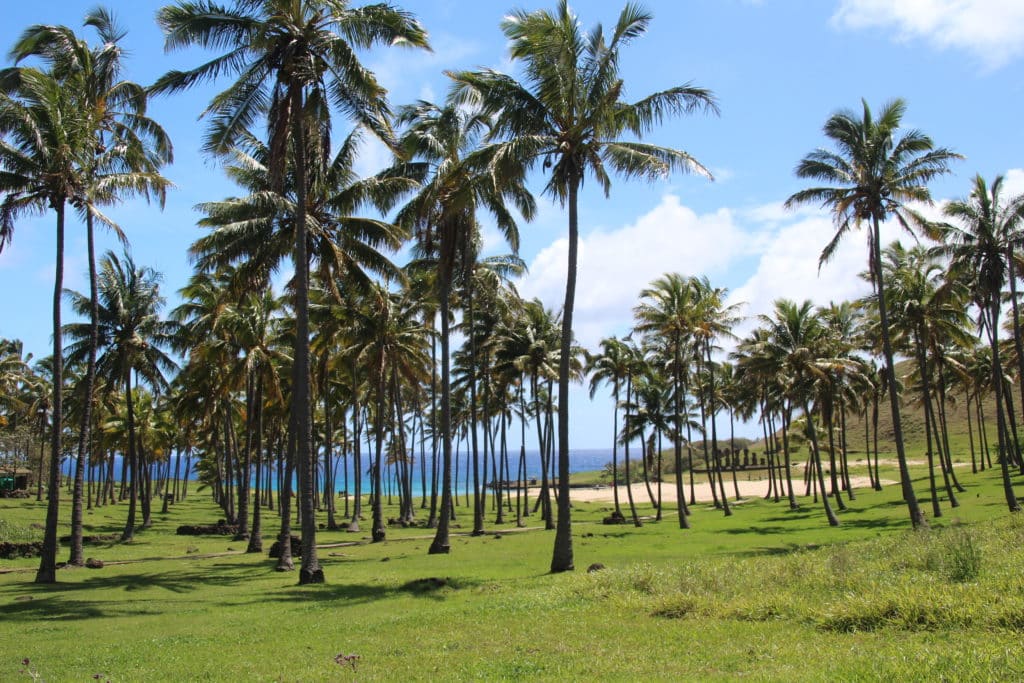 We cannot finish this section of our guide without mentioning the final component that makes Easter Island a true paradise island! Easter Island's dream beach is called Anakena. This beach has everything from a postcard of paradise: white sand, turquoise water, coconut trees, and, of course, 5 majestic moai. You will be living in a daydream as you submerge in the water. Ovahe, a small beach east of Anakena, is a wild cove further away from tourists (because of ocean currents, however, it can be dangerous). From the beach, you can see Poike Peninsula. Unfortunately, it is currently closed to the public for renovation and environmental protection. Don't miss the Ahu Nau Nau on the beach, which are 5 of the best-preserved moai on Easter Island. The site provides a picture-perfect landscape: 5 moai with their headdresses against a backdrop of coconut trees, turquoise sea, and fine sand.
Our selection of activities on Easter Island:
Visit the must-see archaeological sites of the moai
Inspect the petroglyphs as part of the historical remains
Enjoy snorkeling, scuba diving, and paddling in crystal clear waters
Sail in Polynesian canoes with top athletes
Learn about the island's culture and history with an English-speaking guide who has been living there for 15 years
Horseback ride on the highest mountain on the island
Swim, sunbathe, and relax on a sandy beach
Discover ancestral dances in a traditional show
Take a boat for a fishing session supervised by an expert
Discover the unusual sights of the north island on a guided hike
Understand more about the island during a visit to the anthropological museum
Witness a beautiful sunset behind the impressive moai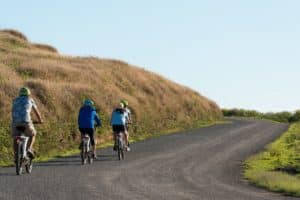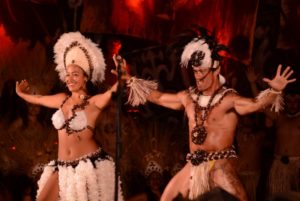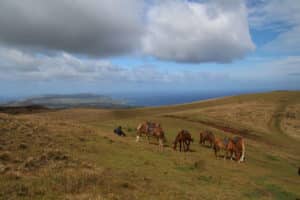 In this section, you will find all of the practical information you need to organize your trip to Easter Island.
Practical information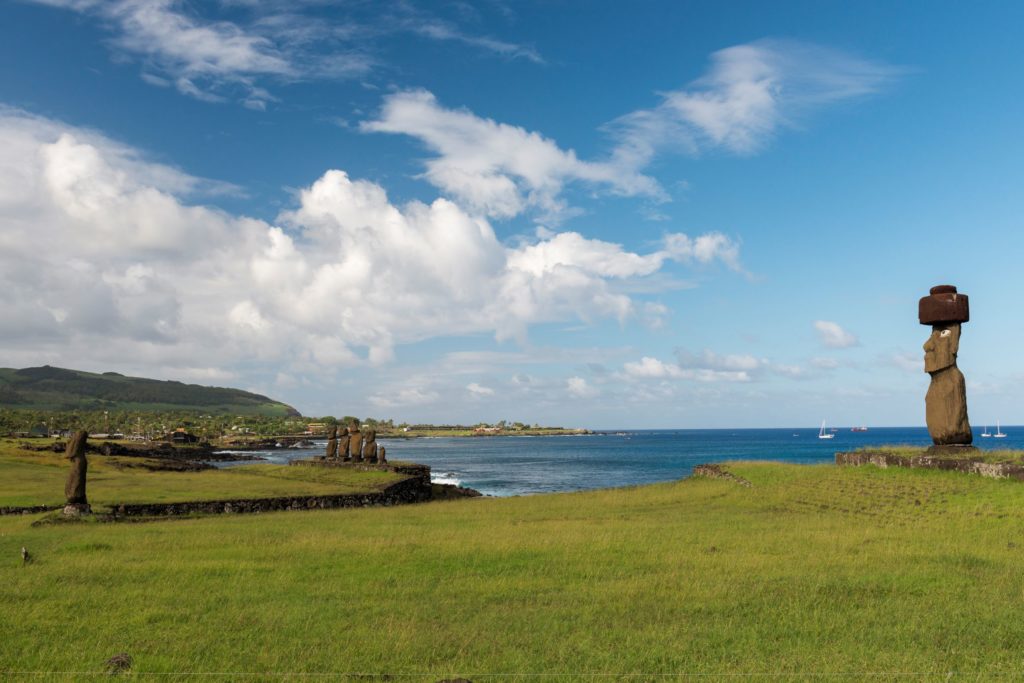 What is the best season to go to Easter Island?
The climate of Easter Island is subtropical. In summer, the temperature ranges between 60 and 82°F. During winter, you can expect between 57 and 72°F. Remember, in the southern hemisphere the seasons are reversed, so summer takes place during January and February and winter in July and August. As for the climate, it is hot and humid all year round, and there may be rain showers in any season. May and June are usually the most rainy months, but this varies from year to year. In conclusion, you can visit the beautiful Easter Island all year round, whatever the season.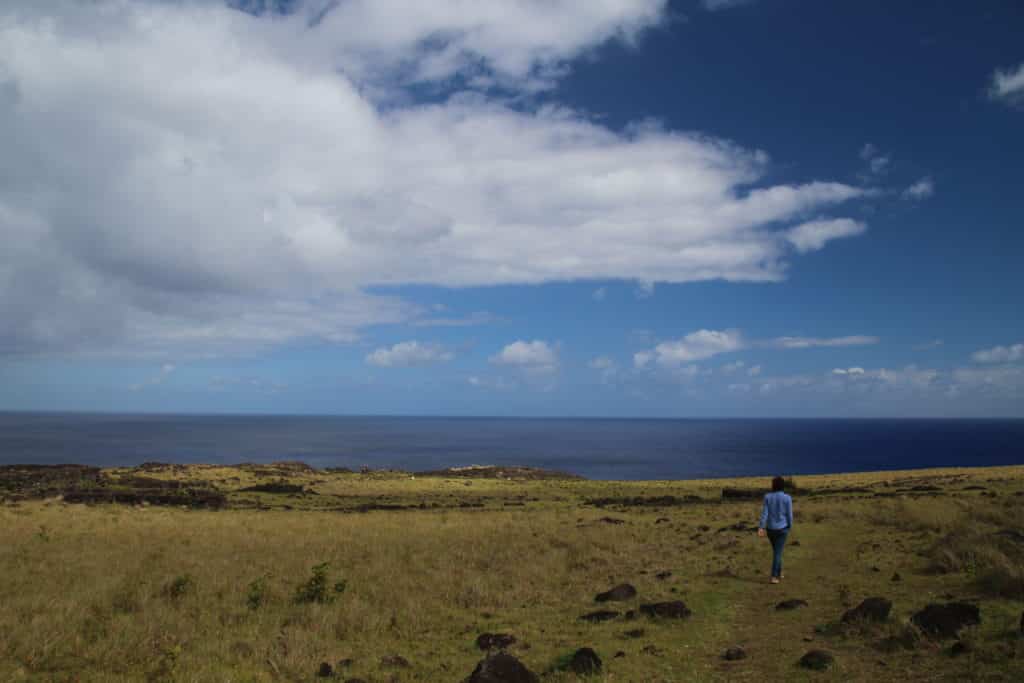 How much time should I spend on Easter Island?
Don't be fooled by the small size of the island: two days are not enough to fully discover it. Take time to explore every corner! On a 3-day trip to Easter Island, you will visit the most essential places, but it is very likely that you will end up feeling frustrated that you did not allow yourself more time on the island. On Rapa Nui, there is not only a significant number of archaeological sites to visit, but also many activities that you can participate in. Not to mention you will want to spend time savoring the tranquility of the most isolated place in the world, watching beautiful sunsets, or getting to know the locals. Thus, at Travel Coach Chile, our itineraries are adapted and offer you a fair and authentic way to discover Easter Island.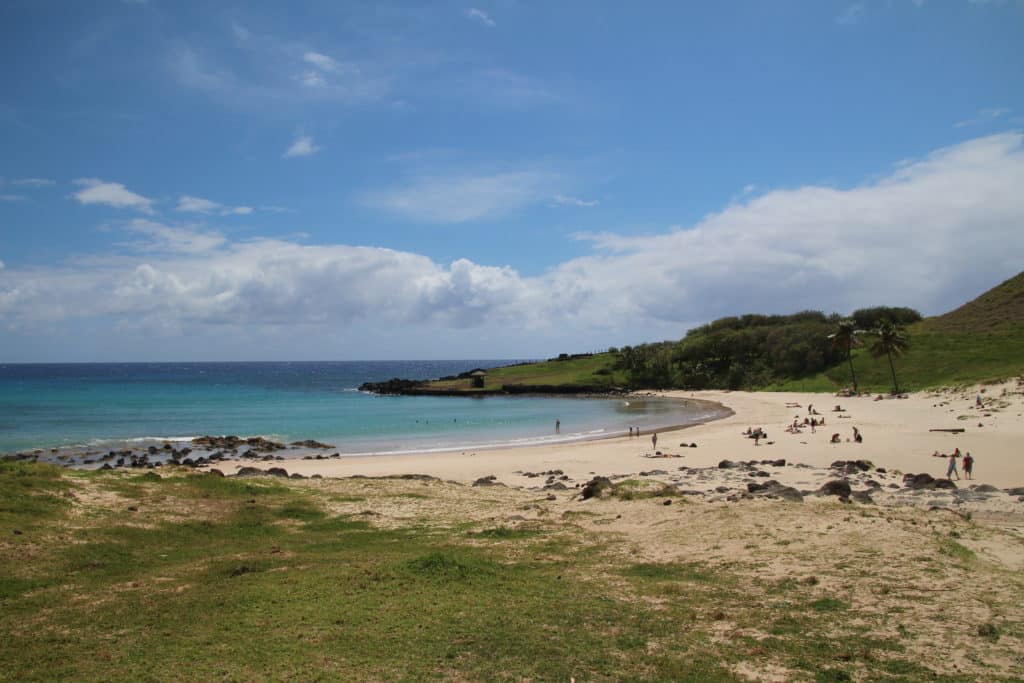 How do I get to Easter Island?
As you know by now, Easter Island is lost in the middle of the Pacific. Therefore, the only two ways to access it are by boat or plane. About twice a year, a Chilean navy ship crosses from the mainland to the island in 7 days. However, we recommend flying, which takes 5 hours. Latam is the only airline to travel to Easter Island, either from Santiago de Chile or Tahiti. Normally, there is only one daily flight, but in high season there are up to two, or even three during the Tapati festival.
Another tip: the earlier you buy your plane tickets, the cheaper they will be. This recommendation is especially true for Easter Island. We also recommend buying your tickets from Santiago to Easter Island from abroad. Prices for flights to Easter Island are usually expensive, but cost less when purchased from the US or the UK..
Where should I stay on Easter Island?
The island has developed a solid offering for tourists, and there is a great choice of accommodation. However, during our examination of the island, we found that the value for money was not as good as we would expect, and many accommodations were poorly maintained and even wet. We have therefore been critical in our selection of accommodations where we feel the conditions are pleasant. These range from a simple, clean hostel facing the sea, a comfortable hotel with a swimming pool, an unusual "glamping" lodge, a family villa with garden and ocean views, and a high-end guest room with a breakfast room and ocean views. The smallest budgets can opt to camp next to the ocean. Tents are provided and set up on site. Important: Since 2018, you are obligated to book in advance, as you must show your reservation when boarding the flight to Easter Island.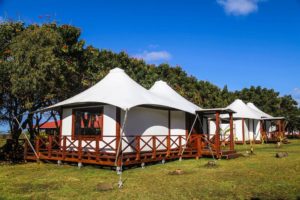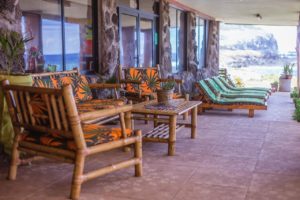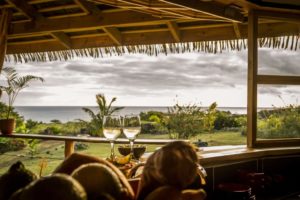 How much does a trip to Easter Island cost?
The big question: what is the budget for a stay on Easter Island? At the risk of disappointing some of you, the price of a stay on Easter Island is high, even if you make economic choices wherever possible. This makes it nearly impossible to organize a "cheap" stay on Easter Island. Here are all the criteria you need to consider to estimate your budget as accurately as possible.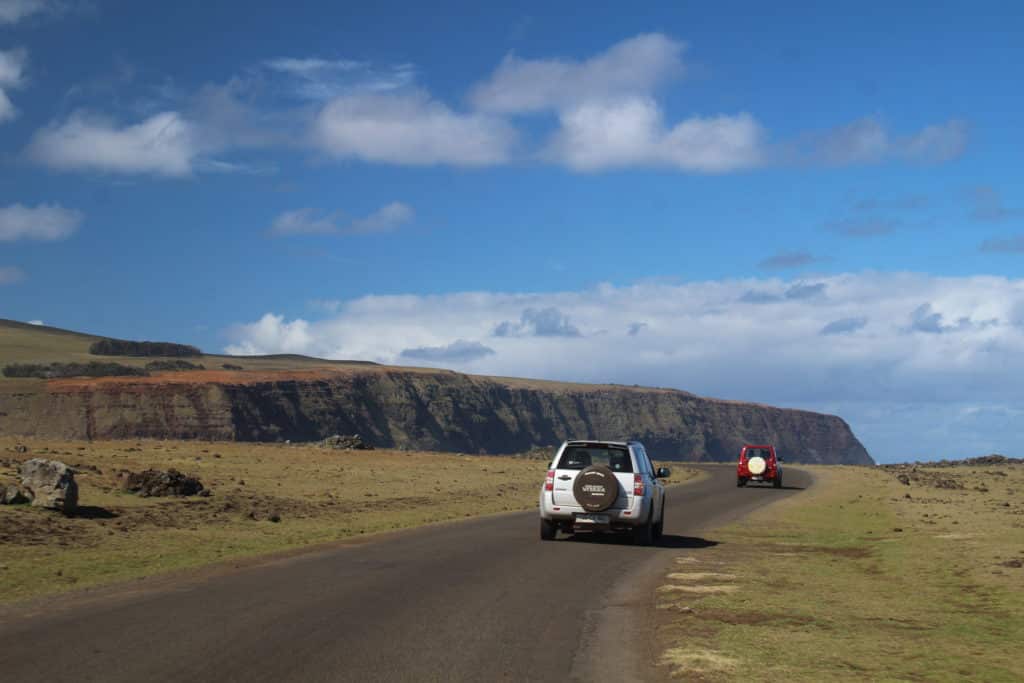 First of all, you should know that a round-trip flight to Easter Island from Santiago de Chile costs at least $500 USD. From time to time, special offers decrease the price to as low as $350 USD, but the dates are very limited. During Tapati festival, prices skyrocket to $1,000 USD or more. Then, you have to take into account the accommodation. As a good basis, you should plan to spend about $200 USD per night for comfortable, pleasant accommodation. To give you a reference, a night in the cheapest hostel we work with costs about $90 USD, with breakfast included. You also have to add the price of admission to the island to be able to visit all sites: $80 USD per person. Add to that the car rental (which seems essential, because the bike option only allows you to see a small part of the island) for about $65 USD per day for a Suzuki Jimny in good condition. Finally, to estimate your budget for your stay, add meals (about 15% more expensive than on the mainland), and all possible extra spending (guide, hike, traditional dance show, shopping, etc.).
Travel to Easter Island: documents and requirements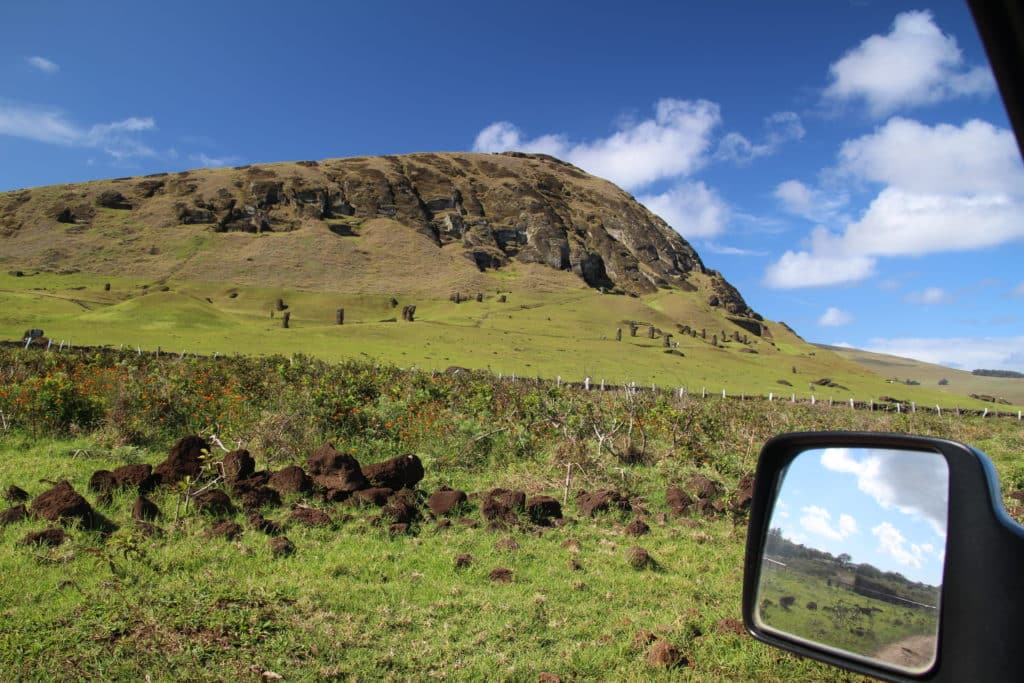 Since 2018, entry into the territory has been regulated by the authorities. At the time of boarding you will be required to show the following:
Evidence that you have a return flight back to Chile dated a maximum of 30 days after your arrival to the island.
A valid passport
Registration at a hotel officially registered in Sernatur, or an invitation letter. The document must state the hotel's address.
The FUI form, which you will complete online during your check-in 24 hours in advance.
Our travel blog
We have done our best to be as comprehensive as possible while preparing this travel guide to Easter Island. If you want to read our suggested itinerary for a stay on Easter Island, we recommend visiting our blog for tips on a 5-day-trip to Easter Island. We also suggest reading travel stories or watching documentaries to prepare for this unique trip as best as possible. If you have decided to make the voyage to Easter Island, contact us now.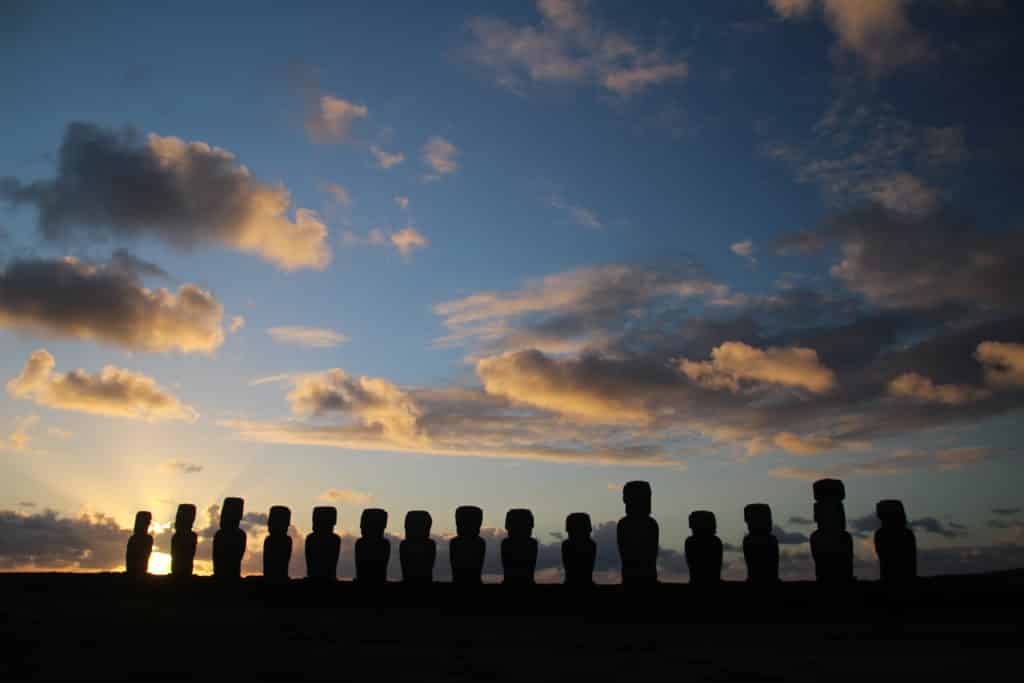 Now that you have all the information you need to travel to Easter Island, you are probably wondering which agency to contact to organize this fabulous trip. The answer is quite simple: we are the most attentive agency to help you build the trip of your dreams. If you are not yet convinced, read on.
Should I book a travel package to Easter Island?
We are not fans of travel packages where you simply get on a bus and watch the scenery pass by. Especially for Easter Island, this is definitely not the type of trip we recommend. As an experienced travel agency in Chile, we organize tailor-made trips to Easter Island. We take care of the entire organization of your stay, including accommodations, car rentals, transfers, guides, and activities. We recommend this kind of trip because it is the right balance between flexibility and organized tours. In addition, you will receive beneficial historical information from our English-speaking guides. We believe that a trip to Easter Island is a once-in-a-lifetime journey, during which we want you to take the time to fully appreciate every detail and every moment. For Easter Island honeymoons, we have unique tips such as a dinner under the stars, or a unique stargazing session where you will learn about Polynesian traditions.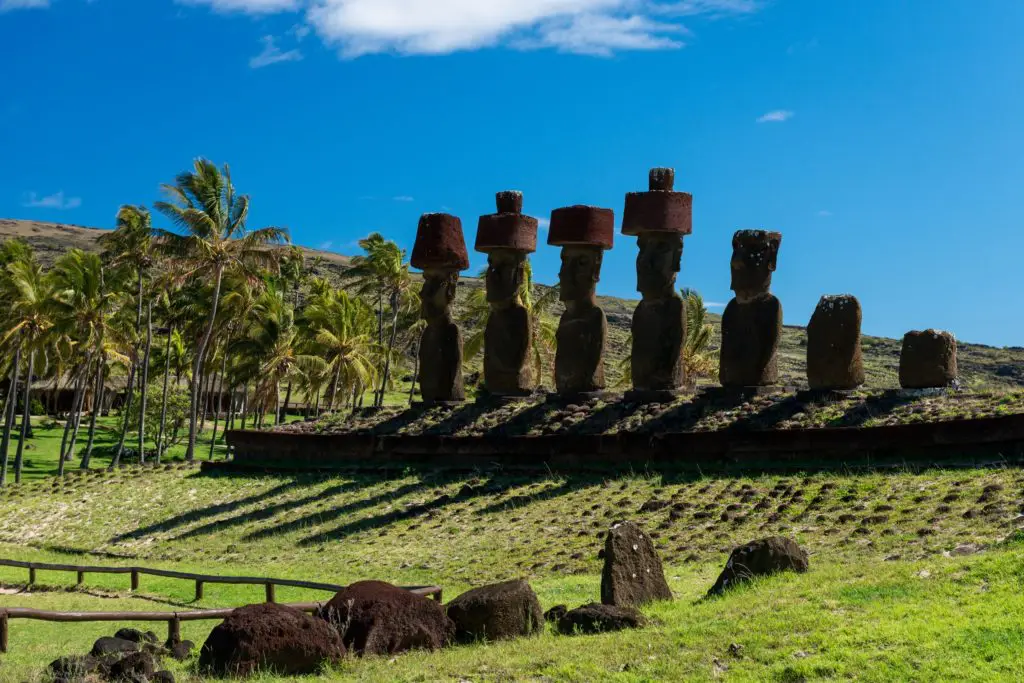 Which destinations should I add to my itinerary before or after a trip to Easter Island?
We sometimes receive requests for a combined stay in both the Galapagos and Easter Island, for honeymoons, for example. Or Peru and Easter Island. We do not recommend combining two destinations so far away from each other, however, as you would spend far too much time on flights and making connections. In our opinion, the best combination trip remains Chile and Easter Island. Since Easter Island is accessible by plane only from Santiago de Chile or Tahiti, it is easier to choose a flight from Chile to reduce the cost and the duration of your journey. In addition, we recommend you combine Patagonia and Easter Island if you travel between November and March. During any other time of year, an Atacama and Easter Island trip is a great choice. And for travelers who have 3 weeks, you can even plan a trip blending Chile's 3 best destinations: Easter Island, Atacama, and Patagonia.