At Travel Coach Chile, we (obviously) love to travel and discover new flavors! Because we are self-proclaimed foodies, and because you are too, it's time to show off your culinary skills. This week, let's cook the most emblematic Chilean recipes together !

The variety of landscapes, climates, and cultures offered by Chile is endless. This diversity is also reflected in its cuisine, which is rich in Mapuche, Spanish, German, and English influences. Along its 2,500 miles of Pacific coastline, fish and seafood play an important role in this bountiful, colorful gastronomy, its marine resources particularly fresh and varied. Beef is also very popular, as well as agricultural products: corn, potatoes, olives, beans…
For once, we are not here to offer you a tailor-made itinerary in Chile, but instead a journey into the heart of Chile's local culinary flavors.
Here we have gathered our 4 favorite Chilean recipes! All iconic in Chile, we have tested them firsthand thanks to the great chefs of Chilean Cuisine in Valparaiso! Thank to their patience and sage advice, we have transformed into home cooks!
We guarantee that in the U.S. you can find all the ingredients necessary to prepare the delicacies that we present below.
1- Pebre, the side dish that steals the show
We invite you to discover "Pebre": an easy-to-make and inexpensive sauce, similar to pico de gallo, Pebre is perfect for all occasions. For cocktail hour, as a starter, or even to accompany your main course, it is served in sauce or salad, on bread or meat, and it is an essential Chilean staple found on every table! Full of fresh flavors, Pebre is the perfect way to top off any scrumptious meal. Personally, we are huge fans: it's simple and exquisite!
Pebre is made from raw vegetables and a spice blend called "merkén", a mix of Mapuche smoked, dried, crushed and lightly roasted hot peppers and coriander seeds (you can find some here). We love Merken and put it in all our culinary preparations. We also advise our travelers to bring some back as travel souvenirs from Chile.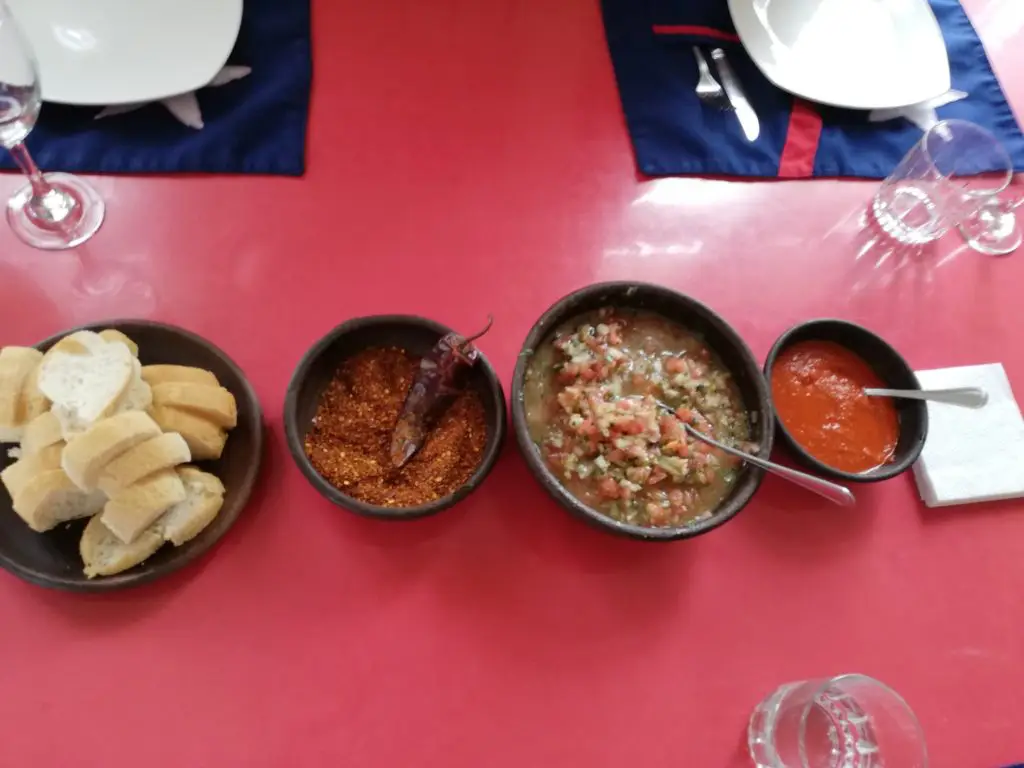 Recipe courtesy of Chilean Cuisine, feeds 4 people:
The ingredients:
3 tablespoons olive oil
1 medium onion
1 tablespoon of granulated sugar (to tone down the acidity of the onion)
1 bunch of fresh cilantro
2 tomatoes
1 green chili pepper (or 3 tablespoons of Merkén)
1 tablespoon white vinegar or lemon juice
1 teaspoon cumin
1 teaspoon salt
Preparation:
1. Peel and chop the onion finely. Then wash the onion in a strainer with the sugar with warm water. This technique gives a sweeter and more pleasant taste to the onion. In a bowl, add the oil to the onion.
2. Chop the cilantro finely. Remove the skin of the tomato and cut the tomato into small cubes. Finely dice the green pepper. Add the vinegar or lemon juice.
3. Season with cumin, black pepper, and salt. Stir with a small wooden spoon.
Chef's advice: let the salsa marinate for one hour; the taste and texture will be much better!
2- Empanada de pino, a classic with unbeatable flavors
For those who do not know the empanada, it is a kind of small pastry filled with meat, cheese, or fish. Offered on every street corner and in the small restaurants that line the roads, empanadas are a staple in Chile.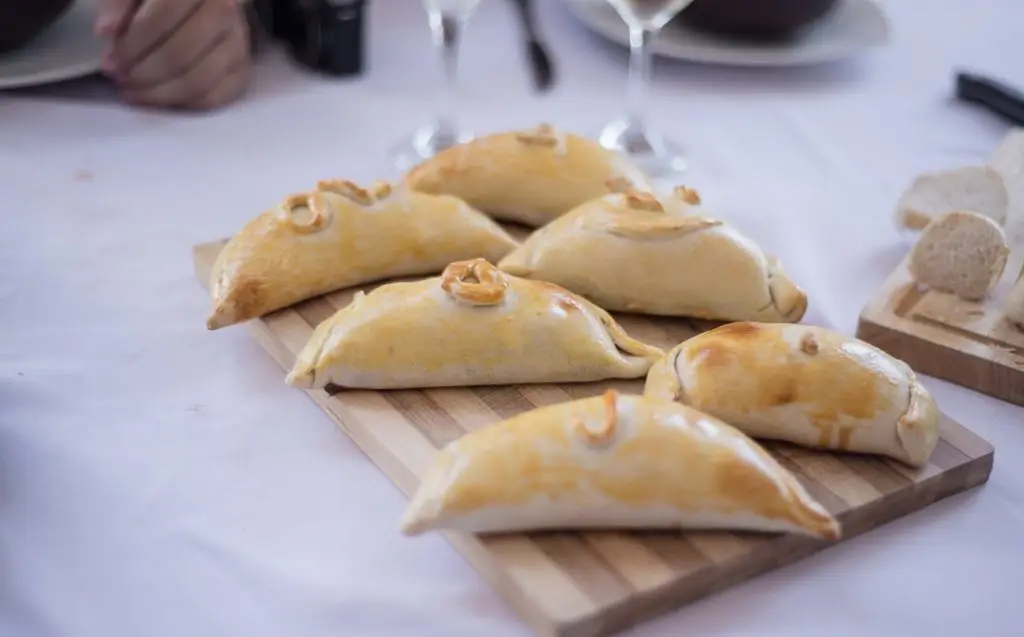 Discover our recipe for the empanada de Pino, which is filled with beef, raisins, eggs and olives:
Recipe courtesy of Chilean Cuisine, feeds 4 people:
The ingredients:
For the meat filling:
9 oz. ground beef
1 medium onion finely chopped
1 clove of garlic finely chopped
3 tablespoons olive oil
1/2 teaspoon cumin
1/2 teaspoon paprika
2 chili peppers
1 teaspoon sugar
1 tablespoon white flour
1/4 cup water
1 hard-boiled egg, peeled and cut in 8 pieces
4 pitted olives
Salt
For a traditional vegetarian filling, replace meat with diced mushrooms or eggplant
For the dough:
2 cups white flour
1 egg yolk
2/3 cup white wine or warm milk
2 tablespoons olive oil
1/2 cup raisins
1 spoon of salt, to dissolve in wine
Preparation:
1. Heat onion and garlic in oil until they become translucent, then add the ground meat and cook for 5 minutes. Season with cumin, paprika, salt, and black pepper. After about 8 minutes, when the mixture is ready, add the flour and water, which bring the mixture to a desirable consistency. Remove from heat and let cool.
2. Place a bunch of flour on the counter, and in the middle dig a small crater. In that hole, drop 1 egg yolk, 2 tablespoons of olive oil, and white wine with salt, or slowly add warm milk. Knead all the ingredients together with repetitive sweeping motions from the outside of the crater to the inside.
3. Do not knead for too long. Roll the dough out onto the floured surface. Preheat the oven to 430 degrees Fahrenheit.
4. Place a large bowl onto the rolled-out dough to trace and cut out 4 circles. Add two spoonfuls of tthe meat mixture on one half of each circle of dough before adding 3 raisins, 1 piece of hard-boiled egg, and 1 olive. Wet the edges of the dough circle with a little water before folding them together into a half circle and pressing down on the edges to seal.
5. Brush the empanadas with 1 egg yolk, and bake for 15 minutes until they are golden brown.
Chef's advice: enjoy hot out of the oven, or store them in the fridge and reheat in the oven when you are ready.
3- La Leche Asada, a delicacy
This traditional Chilean dessert is par excellence. Delicious and easy to make, this caramelized flan will delight young and old! It can usually be accompanied by dulce de leche ("manjar", in Chilean), which gives it an extra special taste and added flair during presentation.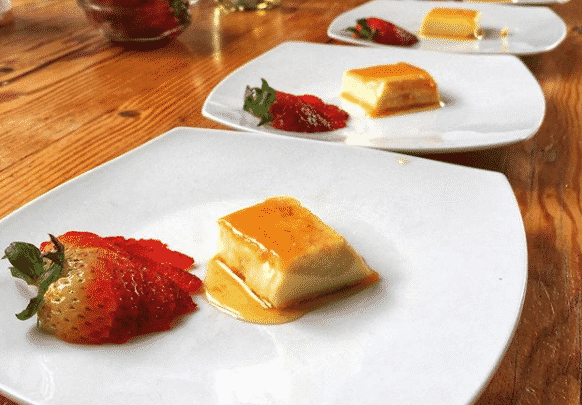 This Chilean recipe serves 4 people:
The ingredients:
For the caramel sauce:
1 cup white sugar
1/2 cup cold water
For the preparation of the flan:
4 eggs
2 cups milk
1/2 teaspoon cloves (optional)
1/2 teaspoon ground cinnamon (optional)
1 teaspoon vanilla extract
4 tablespoons sugar
Preparation:
1. In a saucepan, cook sugar and cold water over medium heat without stirring. Let the caramel form until the liquid is slightly brown, then remove from the heat immediately before pouring it into a large pan or heat-safe dish.
2. In a big bowl, beat the 4 eggs. Add, milk, cloves, cinnamon, vanilla, and sugar, and beat by hand or with a mixer for two minutes. Mix well.
3. When the mixture is uniform consistency, pour it into the pan over the caramel sauce and cook at 390 °F for about 30 minutes in a hot water bath. The top must be very brown.
4. Let the dish cool to room temperature and refrigerate.
5. To serve, flip the dish so that the dessert comes out with the caramel on top.
Chef's advice: by stopping the caramel from cooking before it browns, you get the sugar syrup, or homemade "Goma", essential in the preparation of the Pisco Sour.
4- Pisco Sour, the iconic cocktail
Pisco is a Chilean national alcohol produced from grapes. The Elqui Valley in northern Chile, famous for 300 days of sunshine a year, offers the ideal climate for grape growing and pisco making. In Chile, this alcohol is the base of more than 60 different recipes of cocktails and drinks. Some would argue that the Pisco Sour is Peruvian in origin, others insist it is Chilean… in any case, it is the perfect cocktail for an aperitif with flavors unique to the country at the end of the world! And if you want to taste one on site during your visit, be sure to head to one of our favorite restaurants in the Bellavista district of Santiago.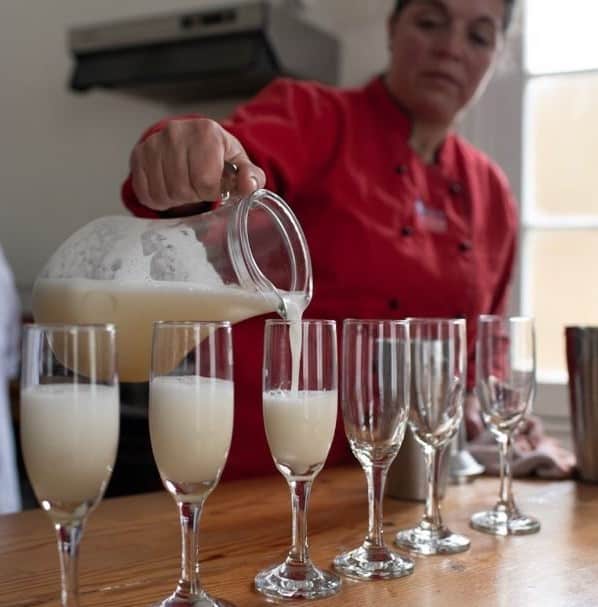 Chilean Cuisine's recipe, for 4 people:
Ingredients:
Ice
3 shots of Pisco
1 shot of lemon juice
1 egg white
1 serving of simple syrup (or "Goma")
10 fresh basil leaves, chopped (optional)
1/2 chili pepper, chopped finely (optional)
1/2 teaspoon ginger (optional)
Preparation:
1. In a shaker, add ice cubes, pisco, lemon juice, egg white, sugar syrup, fresh basil, and green pepper. Shake vigorously for 30 to 45 seconds.
2. Pour the mixture in champagne glasses. The foam that tops this cocktail is thanks to the egg white, which doesn't lend any flavor but which offers a pleasant texture and allows a balance between the different flavors.
Now, all that remains is to get to the kitchen! Treat yourself and tag us in the photos of your creations on Facebook and Instagram!
Chile still has plenty of surprises in store for you… Follow us on our social networks and subscribe to our monthly newsletter to receive all our tips to travel like a local in Chile!