When preparing for my first trip to South America, I quickly found myself faced with a major dilemma: how long should I stay in Chile?
It may seem complicated to accurately choose the duration of a trip to Chile, a country spanning 2,670 miles. And, it's also on the other end of the world! Intitally, I did not have much information about this country, which is often not well known to North America.
I wanted to make the 14-hour flight to Santiago worthwhile, but I bombarded myself with a flood of questions: is one week of vacation in Chile too short? Are 3 weeks too long? Would 2 weeks be a happy medium?
On top of these questions were also some restraints, inherent to any big trip: budget, school breaks, holidays, or even the small window of time where our availability overlaps with the rest of our travel party.
So just like you, I searched for a guide that would explain how many days it takes us to visit Chile according to our desires, our needs, and our constraints, with no success. Perhaps you also have date constraints, and in this case you might be interested in our guide to know where to go in Chile depending on the season.
So, we made the guide a reality! Here you will find all our tips for choosing the ideal duration for your itinerary in Chile.
First of all, it is important to remember that you do not visit Chile the way you vacation in the U.S. Choosing the duration of your trip to Chile is above all selecting the places you want to visit. It is therefore necessary to go through an essential step: choose your destinations and know your desires. Patagonia, desert, wine or astronomy? Those who have always dreamed of seeing glaciers and those who want to follow in the footsteps of the original peoples of Chile will not go to the same destination, nor for the same duration.
A trip to Chile from 1 week to 10 days
Going on a trip to Chile for 7 days requires you to be very selective. To travel as we like to travel at TravelCoachChile, that is, at a leisurely, gentle pace (without running to catch a flight) and really discovering the destination, for a week of travel to Chile, I recommend you focus on one region.
---
To identify a region without being an expert in local geography, apply this simple but essential rule:
Do you have to fly to the destination from Santiago? If so, it's a different region.
Can you travel to and from the destination in one day by bus or car?
If so, consider it a stop that you can add to your trip in addition to the chosen region.
---
Keep this easy tool in mind: by leaving on one domestic round-trip flight, and including local stops, you ensure a week-long trip that allows you to explore the destination fully at a balanced pace! This is a tempting option for a budget holiday or to discover the region that you haven't yet checked off of your Chilean bucket list.
To give you a more concrete idea, a week in Chile often translates into seven days in Patagonia. Or a week in the Atacama Desert. These are the two of the country's iconic classics!
And if you have a few more extra days you can add to reach 10 days, you can add a unique weekend to your itinerary. Near Santiago, you can easily access the bohemian port city of Valparaíso or reach the wine valley of Casablanca.
Do you still have doubts on planning your time? Then let me tell you about Françoise and her 3 friends, who contacted us to make a trek of about ten days to meet the locals of some enchanting places. We concocted an itinerant hike for seasoned travelers in the Atacama Desert. They were able to discover this extraordinary region and its lunar landscapes at a pace adapted to their needs. In summary, it was a short vacation, but struck the perfect balance between incredible views and unique and active experiences.
To inspire you, nothing is more effective than discovering our recommended itineraries from one week to 10 days in Chile:
Our favorite formula: a 2-week trip to Chile
To make up for a long plane ride, we prefer to spend more time on site to get used to jet lag or to acclimatize to changes in elevation. For us, two weeks is the perfect amount of time to discover the must-sees of Chile. 15 days gives you enough time to explore two regions and all the contrasts of the country, from North to South.
Our bestselling trip is, for example, achieved in two weeks: the must-sees of Chile, from Patagonia to the Atacama desert. Favorites of all visitors who venture to Chile for the first time, this itinerary allows you to be dazzled by geysers, altiplanic lagoons, and all kinds of wild animals, not to mention, of course, millennial glaciers.
As we detail in our complete guide to organizing your trip to Chile, two weeks is also a sufficient amount of time to explore lesser-known, more well-preserved corners of the country. Michelle and her husband chose the formula of one classic region plus one unique region. They set off to discover Atacama with a private English-speaking guide, to offer them all the history of the region and the Lickan-antay (licán antai) peoples. After a stopover in Valparaíso, they then took the road to the Lakes region and Chiloé. At their own pace, they were able to learn about the Mapuche culture, explore the thousand churches of the archipelago, and take idyllic walks in the middle of nature.
For more ideas and inspiration, check out our collection of 2-week tours in Chile:
A trip to Chile from 3 weeks to one month
Many travelers and globetrotters consider a longer stay in Chile. This is definitely the best way to explore the country and not miss anything! In 3, 4, or 5 weeks you can discover all of Chile's must-sees: Patagonia, Atacama, Santiago, and Valparaíso can be added on to with other less touristic or unique regions. In fact, why not combine a trip to Chile with Argentina or an extension to the Salar de Uyuni in Bolivia?
In this time frame, almost anything is possible, from the Far North to the extreme South, or even the Pacific and Easter Island. For example, Patrick extended his one-month itinerary into Ushuaia in Argentina, and Anne-Charlotte and her husband opted for the Far North and its pre-Columbian artifacts.
A long trip is definitely the most complete option that will offer you a wide range of landscapes to discover and enjoy all the diversity of Chile. Keep in mind, however, the budget for this kind of getaway. Planes and car rentals can quickly drive up the cost of a long trip to Chile.
Slow travelers will also be able to choose this option to discover the country in a more sustainable way. By taking advantage of the night buses that traverse the country, you can easily spend an eco-friendly holiday while visiting Chile from North to South. It is an interesting alternative to slow down the pace and enjoy every moment.
Build your dream vacation now with our ideas for stays of 3 weeks or more in Chile.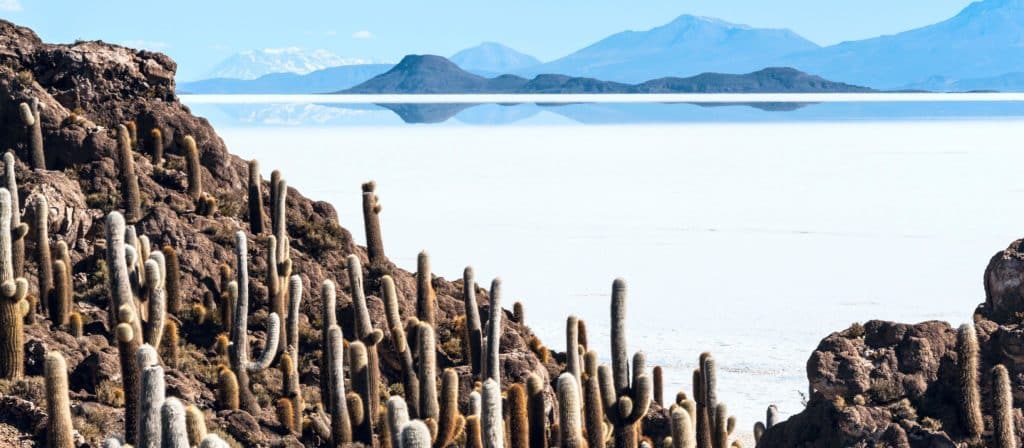 I hope by now you understand that, to choose the duration of your visit to Chile, you will first have to think about the places you want to visit. However, there are so many different destinations in Chile that we advise you to trust the expertise of a local agency to help you brainstorm!
Do you still have questions about the length of your holiday in Chile and the timeline to expect? Don't hesitate to ask us in the comments !